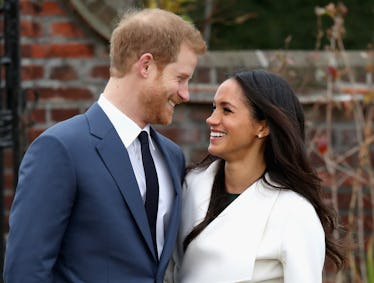 The One Question You Shouldn't Be Asking About Meghan Markle After Her Engagement
Chris Jackson/Getty Images Entertainment/Getty Images
Put all of your childhood dreams of marrying one of the English princes to rest: Prince Harry is engaged to Meghan Markle. The Royal Family made the announcement on Monday, Nov. 27 in a statement from Prince Charles' residence, Clarence House. Markle is known for playing Rachel Zane on the lawyer drama Suits. Princes William and Harry have spent their entire lives in the public eye and, as a result, so have their relationships, but one thing that isn't acceptable is asking "will Meghan Markle keep working" after marrying Prince Harry. Before we dive into why that question is hella messed up, let's just read the happy announcement from the Royal Family. The statement reads,
His Royal Highness The Prince of Wales is delighted to announce the engagement of Prince Harry to Ms. Meghan Markle. The wedding will take place in Spring 2018. Further details about the wedding day will be announced in due course. His Royal Highness and Ms. Markle became engaged in London earlier this month. Prince Harry has informed Her Majesty The Queen and other close members of his family. Prince Harry has also sought and received the blessing of Ms. Markle's parents. The couple will live in Nottingham Cottage at Kensington Palace.
The couple, according to the statement, will be living in Nottingham Cottage while they're engaged. Nottingham Cottage is a two-bedroom house on the grounds of Kensington Palace. Prince William and Kate Middleton live in a 20-bedroom apartment inside of Kensington Palace itself with their two kiddos, Prince George and Princess Charlotte, and I'm having trouble wrapping my head around the fact that an apartment can have 20 bedrooms, but I digress. Prince Harry moved into Nottingham Cottage in 2013 and immediately installed a hammock in the backyard, according to DailyMail.com, so that's just everything. I hope Markle loves it and spends many a Sunday relaxing in it so I can live vicariously through her.
You know what she could read while lounging in that hammock? Scripts. Because she's a working actress who will likely continue working despite the fact that she'll be married by the spring because, you know, a woman's goals in life don't stop once she's married. And that's why absolutely no one should be asking whether or not Meghan Markle will continue working after she marries Prince Harry. The woman is an actress and a philanthropist and used to run a successful lifestyle blog. She has her own life outside of her relationship. Asking if she's going to stop having her own life just because she's getting married (it doesn't matter that he's a rich prince) is sexist as hell. Imagine asking Prince Harry if he plans to stop being a prince and stop working on his various philanthropic efforts once he's married to Markle. Sounds ridiculous, right? Right. So don't wonder if Markle is going to do the same thing. They are living, breathing, working human people with their own separate lives that they are now deciding to live together. In no world does that mean Markle should be expected to stop acting/working with philanthropies because she married into the Royal Family.
Now that we have that established, let's talk about the future of Suits. According to Us Weekly, the show resumed filming its seventh season in Toronto in September with plans to continue filming through the end of November. This was originally reported in September 2017 and Harry proposed to Markle in November, according to the statement announcing the engagement, so it's possible filming was paused in order for Markle and Harry to celebrate their news. But the show is confirmed for its seventh season, although a source close to the show says it's not set in stone whether there will be a Season 8. The source told the outlet, "No one knows if there will even be a Season 8 of the show."
The source added, "If Meghan decides not to come back for Season 8, the show will still keep going if everyone else signs on. She isn't the main cast member on the show, and quite frankly, everyone already thinks she's not coming back."
The source says the cast and crew doesn't think Markle will return to the show, as her name reportedly hasn't been on filming call sheets. But they aren't surprised, according to the source, as they fully expected that she would marry Prince Harry. The source said, "No one gets the impression she's staying on the show much longer. They believe she's going to marry Harry." Even though she might not be returning to Suits, that doesn't mean she won't continue working or that she doesn't plan to work ever again because she's engaged to a rich prince. Markle can do whatever she wants, fam.