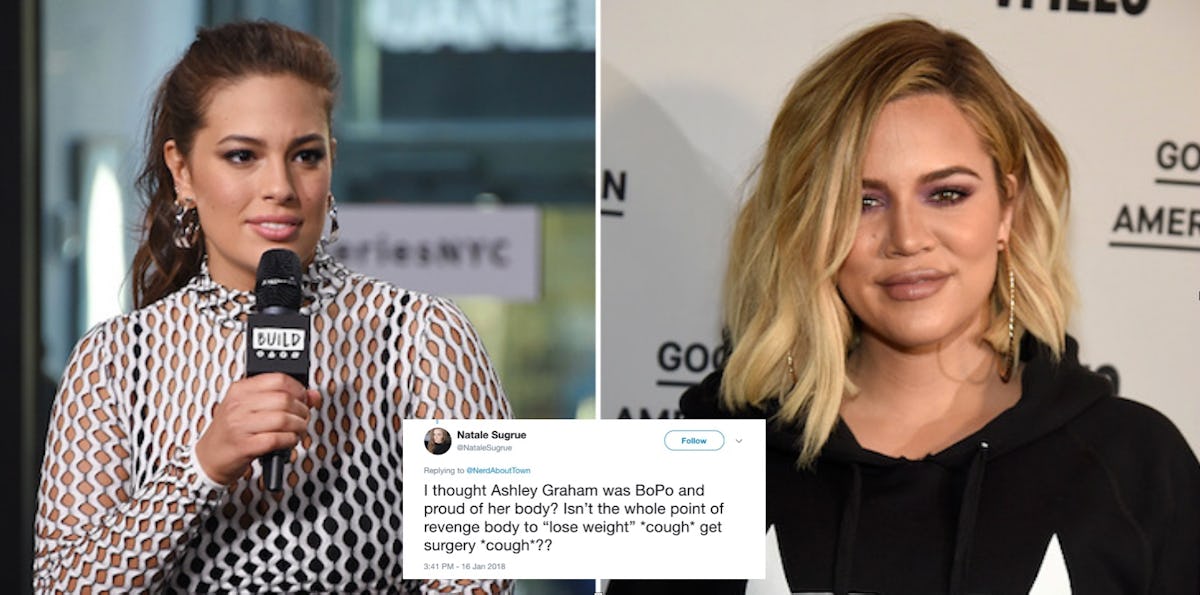 Ashley Graham Went On Khloé Kardashian's 'Revenge Body' & Fans Are So Upset
Getty Images/Michael Loccisano/Staff/Kevin Mazur/Contributor/Twitter
We're just three episodes into the second season of Khloé Kardashian's Revenge Body, and it looks like viewers are in for a few surprises this season — and no, I'm not just referring to wild transformations. While trainers Ashley Borden and Gunnar Peterson were kicking ass and taking names on Monday, Jan. 15, fans were less focused on contestant Kelsey Rose's emotional journey struggling with weight gain after a life-threatening car accident, and more confused by Ashley Graham's Revenge Body appearance. Graham sat down with Rose to offer the aspiring plus-size model advice on how to feel confident and get back into the business after her car accident, but loyal fans of the model were disappointed she'd agree to a cameo on the series at all.
Revenge Body has received its own slew of backlash since it first aired in January of 2017, specifically because of the weight loss series' suggestive title. Weight loss is obviously a very personal decision, but the term "revenge body" insinuates people should lose weight for reasons other than health — i.e. to find happiness or make an ex feel guilty. According to Revelist, Kardashian has said that the title of her show has been "misunderstood," and that its aggressive nature is misleading. She also called the show's title "a play on words," according to Revelist.
Throughout her career, Graham has made it a point to actively speak out against the modeling industry's biggest flaws, and she consistently fights to see more inclusivity on the runway and in magazine spreads. When it comes to body acceptance, Graham has become a representative, so to speak, of the movement. Fans want to know why, then, would Graham agree to make a cameo on a show that appears to encourage people to lose weight in order to find happiness? Elite Daily has reached out to Graham's team for comment on the backlash, but did not hear back by the time of publication.
A lot of fans were disappointed by Graham's appearance on the show.
Others don't really see a problem with it.
From a body-positive standpoint, I can definitely see how fans could interpret Graham's cameo on Revenge Body as problematic, and potentially hypocritical. Happiness is a journey, not a destination, and it's definitely not measured in numbers on a scale or the size of your jeans. Graham encourages people to love the skin they're in by owning their individual beauty, no matter what their shape or size. In this way, appearing on Kardashian's transformation series may come off as challenging what Graham often fights for.
To put this in perspective, during an interview with Vogue in May of 2017, Graham said she purposely uses her body "as a tool to talk about taboo subjects," like cellulite or insecurities, to encourage others to talk kindly to their bodies and "have an affirmation kind of conversation" with themselves. She told Vogue,
I put photos of myself and my cellulite and my stretch marks online, and I don't retouch them on purpose because my body is the average size of the American woman. It's important to embrace who you are when you look in the mirror because, at the end of the day, it's all you've got.
In a December 2017 interview with CBS News, Graham even went as far as to say that when young women ask how they can break into her industry, she asks them, why be the model on the cover when you can aspire to be the editor or designer? Her goal is to show people that they're so much more than just their bodies. They are their brains, and emotions, and souls, and aspirations — which seems to be why Graham agreed to sit down with Rose on Khloé Kardashian's show in the first place, to offer advice as a career coach rather than comment on or encourage weight loss.
Graham's role on Revenge Body was to inspire Rose to not give up on her dreams.
While the criticism against Graham makes sense in some ways, on the flip side, her cameo brings an added, and perhaps much-needed depth to the show.
Khloé Kardashian has struggled with body positivity herself, so it would make sense for Kardashian to invite Graham on the show because she sees her as a positive example for people struggling with self-love and acceptance. The bulk of the model's cameo focused on building Rose up when she felt like she'd already hit rock bottom, by offering up a few pointers on how to walk the catwalk and hooking her up with a glam squad to do her up. Graham didn't talk about body standards, or encourage Rose to lose weight whatsoever, because the supermodel was there to give tips on how to slay the catwalk. The entire appearance was, in my opinion, on-brand for Graham.
Graham has received a ton of backlash on social media, but participant Kelsey Rose has come to her defense.
Rose took it upon herself to come to the model's defense on Instagram by responding in the comments section of Graham's post promoting her appearance on the show. She explained that while she, too, understands why Graham's cameo may come off as hypocritical, it wasn't about dropping a ton of weight and becoming happier as a result. It was about loving your body regardless of the hardships it may have endured. She wrote,
I felt my body was taken from me after an accident. My revenge body was never a size 2, it was a size 14 which is the weight I was at before my accident. Ultimately it was about taking my body back and in that celebration, @theashleygraham was a huge part.
Regardless of whether or not you think Graham's actions were hypocritical, they have obviously inspired Rose to love her body, no matter what. When you feel good, you look good, no matter what size jeans you're wearing, and that is the conversation that needs to be had.