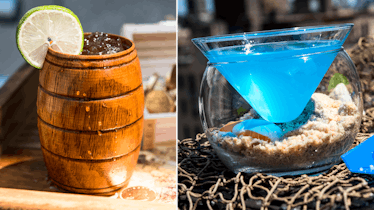 This Secret Beach Pop-Up Was Made For The Girl Who Doesn't Want Summer To End
Summer 2018 is sadly coming to an end. Pretty soon, you'll be rocking your favorite leather jacket and drinking a Pumpkin Spice Latte on a crisp autumn afternoon. However, if you're a hardcore beach babe who is still trying to make the most of what's left of summer, you might want to check out the Arthouse at NYLO's secret beach pop-up in New York City. Opening Sept. 6, the 16th-floor terrace of the chic Upper West Side hotel will be soaking up the sun with beach-inspired cocktails that you and your summer-loving friends really need to check out.
Arthouse at NYLO is known for making some truly Instagram-worthy cocktails. In the past, they've served up cocktails out of snow globes for the holiday season, and for all of you with a sweet tooth, they're the makers of the cocktail served in a gumball machine. Both of those sound like they're made for the 'Gram, so what exactly does the venue have planned for their beach pop-up? Well, just like you, Arthouse isn't ready to say goodbye to summer either, and they're creating a beach escape just for you with waves, sand, and tasty summery cocktails. Who said anything about the fall? You're still in beach mode, and an endless summer awaits if you're looking for it.
This sweet beachy cocktail is Instagram #goals.
From snow globes to gumball machines, Arthouse knows how to serve their drinks, and at the beach pop-up, all cocktails will have some fun surprises. One of the drinks being offered is called the "Basic Beach," which is served on a bed of cookie sand — that's right, I said cookie sand. Never has sand been so appealing to me before. You'll definitely want to snap a pic or two of this drink before sippin' away, and caption it with, "Seas the day."
Get tide down with this nautical drink.
Another cocktail on the menu is the "Finding Nori." It's served over sea rocks with tasty grapefruit seafoam on top. It doesn't stop there. The Finding Nori is served to you from ships in a bottle. You'll definitely want to get lost at sea with this drink.
It wouldn't be summer without a little rum.
I don't know about you, but the perfect summer day to me is sitting by the ocean drinking a rum cocktail. If this floats your boat as well, you'll want to try out "The Rum Traitor." It's a mix of Plantation Original Dark Rum, Szechuan Peppercorn Syrup, pineapple juice, and lime juice all served on a treasure map.
This is actually the perfect drink to order with your favorite mate, because it's served in a ration of two wooden barrels. With this cocktail, you've seriously found the treasure, because it has edible gold coins, too. Get a drink selfie, and caption it with, "It's a pirate's life for me."
As a beach babe, you'll soak up the summer vibes with tall grass under your feet, and blue lights hanging down from the rooftops. The pop-up is a perfect spot to gather all of your friends for an end-of-summer party. It will be open until Oct. 27. Summer is still here, so enjoy the rest of it while it lasts.