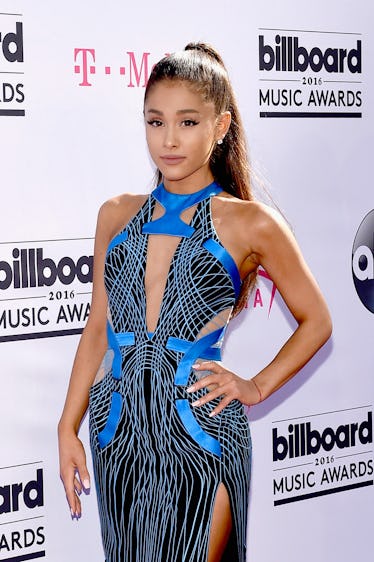 Ariana Grande Had An Emotional Reaction To This Old Video Of Mac Miller Listening To Her Song
David Becker/Getty Images Entertainment/Getty Images
It's been two months since rapper Mac Miller's death shocked and saddened the world, and it seems that there are still so many people paying tribute to the talented singer. On Sept. 7, we learned that Mac Miller, whose real name was Malcolm McCormick, died at the age of 26 of a reported overdose. While family, friends, and fans have honored Miller in many different ways, so has his ex-girlfriend Ariana Grande. And now, a fan sent Grande a recorded video from Miller's old Instagram Live where he's listening to Grande's Sweetener track "R.E.M." back in August and Ariana Grande's reaction to this video of Mac Miller listening to her music is going to make you feel so emotional.
On Tuesday, Nov. 6, a Twitter user sent Grande a video of Miller, who was answering fans' questions while playing Grande's song from her Sweetener album in the background. The video, which was taken back on Aug. 9., is only about a minute and a half long, but you can clearly hear "R.E.M." playing as he's chatting with his fans.
"Hey @ArianaGrande here's a video of @MacMiller listening to R.E.M during his Instagram live from August 9th before it was released," the fan tweeted, adding, "We had to stan the best song from Sweetener!"
Grande replied to the fan, writing, "his voice and laugh. he is supposed to be here. thank u for finding this." She also re-tweeted the post itself:
If this makes you feel like weeping, you're definitely not alone.
It's obvious that Miller is still in the forefront of Grande's mind, and on Wednesday, Oct. 31, Ariana Grande took to Instagram to show fans a heartbreakingly sweet video of Myron (Mac Miller's dog who Grande is reportedly taking care of) as well as a photo of herself cuddling Myron while wearing what appears to be Miller's old sweater. It was a touching tribute.
This also comes after Grande's release of her song, "Thank U, Next" on Saturday, Nov. 3, which honored Miller within the track's lyrics.
She name-drops a few of her recent exes (yep, Pete Davidson included), but it's the line about Miller that will absolutely gut you.
"Even almost got married, and for Pete I'm so thankful. Wish I could say 'thank you' to Malcolm, 'cause he was an angel," Grande sings.
Ariana Grande's first post after Miller's death posted to Instagram on Friday, Sept. 14, showed fans a video of Miller telling her a story, happy and laughing. She captioned the post,
i adored you from the day i met you when i was nineteen and i always will. i can't believe you aren't here anymore. i really can't wrap my head around it. we talked about this. so many times. i'm so mad, i'm so sad i don't know what to do. you were my dearest friend. for so long. above anything else. i'm so sorry i couldn't fix or take your pain away. i really wanted to. the kindest, sweetest soul with demons he never deserved. i hope you're okay now. rest.
We know that all of this can't be easy on Grande, and we hope that she takes as much time as she needs to heal after such a devastating and personal loss.