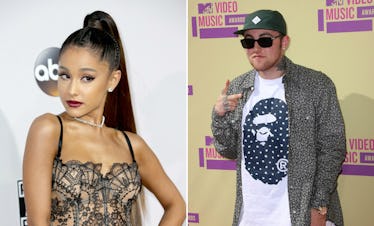 Ariana Grande's Instagram Posts During Mac Miller's Tribute Will Make You So Emotional
Frederick M. Brown/Getty Images Entertainment/Getty Images
It's been a little less than two months since the news of rapper Mac Miller's death saddened the entire music community on Sept. 7, and his ex-girlfriend, singer Ariana Grande, has since paid tribute to him on social media on a handful of occasions. Following his death, his family set up a charity and a benefit concert in the late rapper's honor on Halloween night, and, while Grande reportedly wasn't in attendance, she did share something very special on her social media as a tribute to Miller. Believe me when I tell you that this photo of Ariana Grande wearing Mac Miller's sweater will make you so, so sad.
Ariana Grande took to Instagram on Wednesday, Oct. 31, to share an incredibly sweet tribute to her ex-boyfriend, showing a few videos of Miller's dog, Myron — who Grande is reportedly taking care of in the wake of Miller's death — and a photo of herself cuddling the pup while wearing what appears to be Miller's sweater. While we can't say for sure whether or not the sweater, which reads, "I'm not a rapper," is actually Miller's, or if Grande just bought the same sweater, what we do know for sure is that this is a touching gesture and is enough to make me want to cry:
These posts might have been Grande's own way of paying tribute to her ex-boyfriend while many musicians attended the Mac Miller: A Celebration Of Life concert in Los Angeles on Wednesday night.
While Grande was seemingly not in attendance, the lineup for the concert looked pretty unbelievable, and is proof that Miller's music touched the lives of so many incredible artists.
In a press release about the concert, Karen Meyers (Miller's mother) said,
The support we've experienced is evident in this amazing lineup and is a testament to Malcolm's incredible life. His Father, brother, and I are beyond thankful to everyone who is working to make this concert happen along with every fan and every friend for continuing to support Malcolm and his vision. He was a caring, loving human with a smile that could light up the sky and a soul that was out to make the world a kinder place and the MMCF will continue to do just that.
Grande has previously posted some incredible beautiful tributes to Miller, including her first post dedicated to him after his death. On Friday, Sept. 14, she took to Instagram to show her fans a video of her and Miller together, laughing. She captioned the video,
i adored you from the day i met you when i was nineteen and i always will. i can't believe you aren't here anymore. i really can't wrap my head around it. we talked about this. so many times. i'm so mad, i'm so sad i don't know what to do. you were my dearest friend. for so long. above anything else. i'm so sorry i couldn't fix or take your pain away. i really wanted to. the kindest, sweetest soul with demons he never deserved. i hope you're okay now. rest.
The news of Miller's death is still so gut-wrenching, but let's hope that Grande finds a little bit of solace looking back on the good memories she was able to share with him.