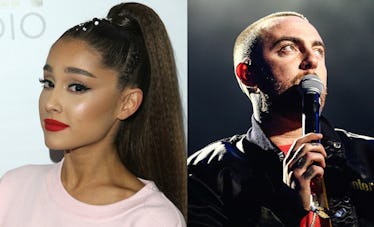 Here's What We Know About Whether Ariana Grande Will Perform At Mac Miller's Benefit
Jesse Grant/Rich Fury/Getty Images
Following Mac Miller's death on Sept. 7, his family has set up a charity and a benefit concert in the late rapper's honor. There are lots of big-name artists slated to perform at the concert on Halloween night in Los Angeles, but will Ariana Grande perform at Mac Miller's benefit concert? Her name isn't included in the current lineup of artists, so the answer to that question, as of Oct. 4, appears to be no. The statement announcing the lineup of artists said there could be more people added, however, so it's possible Grande could join at a later date this month. Elite Daily reached out to Miller's team for comment, but did not hear back by the time of publication.
It's not too far off to imagine that Grande would be willing to perform at the benefit concert, titled Mac Miller: A Celebration of Life. Mac Miller (real name: Malcolm McCormick) did the same for her when she coordinated the One Love Manchester concert a few weeks after the terrorist attack at her concert in May 2017. Given that they were together for two years and she has expressed nothing but love and grief for Miller since his death, fans are speculating that Grande performing at the concert is a possibility. On the other hand, it would be completely understandable if Miller's family decided they would rather not bring any focus to his past relationships and rather focus on Miller's life and music.
The current lineup for the Mac Miller: A Celebration of Life concert is pretty incredible, with or without Grande.
Travis Scott, Chance the Rapper, SZA, Miguel, Anderson .Paak, and Ty Dolla $ign are just some of the artists slated to perform on Halloween night at the Greek Theatre in LA. In a press release about the concert, Karen Meyers (Miller's mother) said,
The support we've experienced is evident in this amazing lineup and is a testament to Malcolm's incredible life. His Father, brother, and I are beyond thankful to everyone who is working to make this concert happen along with every fan and every friend for continuing to support Malcolm and his vision. He was a caring, loving human with a smile that could light up the sky and a soul that was out to make the world a kinder place and the MMCF will continue to do just that.
The Mac Miller Circles Fund has been set up as part of The Pittsburgh Foundation. According to its site, the fund "will provide programming, resources and opportunities to youth from underserved communities, helping them recognize their full potential through exploration in the arts and community building."
Grande hasn't posted anything about the concert online. Just based on what people already know of Grande, I think she'd be happy to perform at the concert, should she be asked. But that's just me speculating. Her presence (or lack thereof) at the concert on Halloween won't speak anything negative of her, so let's nip that possible line of thought in the bud before anyone can say rude things about her on Twitter and Instagram like many did when Miller died on Sept. 7.
Grande has expressed her grief (not that she's obligated to share that publicly with anyone) online, showing how much she cares for the late rapper.
She posted a beautiful tribute to him on Sept. 14.
Her post said,
i adored you from the day i met you when i was nineteen and i always will. i can't believe you aren't here anymore. i really can't wrap my head around it. we talked about this. so many times. i'm so mad, i'm so sad i don't know what to do. you were my dearest friend. for so long. above anything else. i'm so sorry i couldn't fix or take your pain away. i really wanted to. the kindest, sweetest soul with demons he never deserved. i hope you're okay now. rest.
She also appears to be taking care of Miller's dog, Myron, following his death. It's not clear if she fully adopted the pup or was just taking care of him temporarily, but it's touching nonetheless.
Tickets for the Mac Miller: A Celebration of Life concert go on sale on Friday, Oct. 5. All proceeds will go to the Mac Miller Circles Fund.