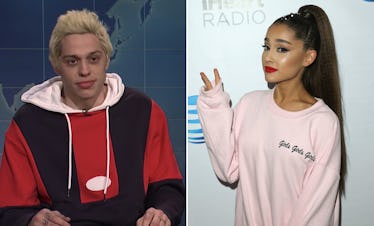 Here's Why Ariana Grande's Latest Instagram Post May Be Throwing Shade At Pete Davidson
Youtube / Jesse Grant/Getty Images Entertainment/Getty Images
The shade runneth over when it comes to Ariana Grande and Pete Davidson, you guys. What started as a grand romance is quickly deteriorating, and the idea of any kind of reunion between these two almost seems laughable at this point. After Pete Davidson's marriage joke in the promo video for Saturday Night Live, we saw Grande seemingly react to his jab on Twitter, but now, her shade is taking over all of social media, apparently. Yep, our girl took to Instagram this time, and Ariana Grande's photo of a balloon shades Pete Davidson on a subtle (perhaps even molecular) level.
In case you missed it, a clip was posted to SNL's official Instagram on Nov. 1 that showed Davidson alongside musical guest Maggie Rogers, introducing himself, then asking if she'd like to get married. Rogers turns him down, and Davidson looks at the camera and says, "0 for 3." Naturally, we're assuming that this refers to his previous relationships, with the most recent being Ariana Grande and their called-off engagement, as well as his previous long-term relationship with Cazzie David. The comment sounds like more of a self-deprecating joke to me than anything else, but I'll let you decide what you want by listening to the clip below:
Shortly after the clip was posted, Grande took to Twitter to seemingly share her reaction to the whole thing. In tweets that have since been deleted, Grande wrote in one tweet, "For somebody who claims to hate relevancy u sure love clinging to it huh." In a second tweet, she wrote, "thank u, next," which seems to mean that she's implying that she's totally over the whole thing.
Check out the receipts below:
She also RTed a third tweet from a fan who responded to SNL's video with, "tag yourself i'm maggie," which seems like confirmation that all of these tweets really are in reference to Davidson and his marriage joke. Elite Daily reached out to Grande's team previously for clarification on the nature of her tweets, but did not hear back by the time of publication.
And now, as if we didn't already have enough fuel to this fire, Grande is transferring her shade over onto a different social media platform: good ol' Instagram. Grande posted a photo of a balloon, and I know that your immediate reaction is probably, "How the HELL can shade be created out of a balloon?"
But guess what? It's apparently possible, because we just saw Ariana Grande do it.
First, she posted a black and white video on her Instagram story of herself walking with a handful of really beautiful flowers and a "Thank You!" balloon that was seemingly given to her by a friend:
So pretty! So gorgeous! So drama-free!
But, non. Things didn't stay drama free for very long. Her next post on her story was a close-up picture of the balloon with a... special addition.
Do you notice anything different here? That little word right under the "Thank You" perhaps?
YES, fam. Grande wrote "next" right underneath the balloon's original saying. And if that sounds familiar to you, that's because it was one of her original tweets reacting to Davidson's marriage joke on SNL.
Complicating things further, shortly after posting the "Thank you next," balloon to her story, Grande took to Twitter to share some philosophical tweets with the phrase, "Thank u, next," sprinkled throughout.
Is it just me, or are these tweets giving off some lyrical vibes? Could "Thank u, next," be the inspiration for a new Ariana Grande's power breakup anthem?
Some fans are totally feeling Grande's new "Thank u, next," motto:
While other fans find it to be a bit flippant considering the serious nature of her past relationship with Davidson:
All I know is there's only so much shade one person can handle, and I've officially hit my limit.