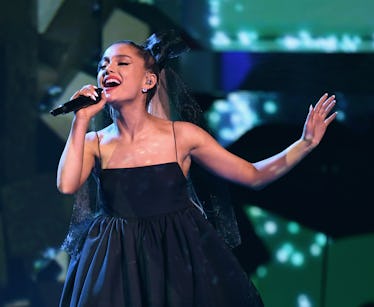 Ariana Grande's Performance At Aretha Franklin's Funeral Celebrated An Iconic Natural Woman
Kevin Winter/Getty Images Entertainment/Getty Images
Ariana Grande impresses just about everyone with her voice, but one group of people who was particularly impressed by her was Aretha Franklin's family. After Grande paid tribute to Franklin on The Tonight Show on Aug. 16 by singing "(You Make Me Feel Like) A Natural Woman," Franklin's family asked her to sing at the Queen of Soul's funeral. (You know you're a star when you get the Aretha Franklin seal of approval.) The day of Franklin's funeral has already arrived, and Ariana Grande's performance at Aretha Franklin's funeral on Aug. 31 was a touching tribute to the late Queen of Soul.
Grande sang "Natural Woman" once more during the funeral, and it was beyond emotional for everyone both in the church and those watching at home. Her performance was incredibly moving, and you could feel the emotion in the room — even from watching on a computer screen. She knocked it out of the park, belting out the tune that many loved so much because of Aretha Franklin. Towards the end of Grande's performance, many stood to give the singer a standing ovation for her beautiful cover of Franklin's hit song.
While walking off the stage, Grande said, "We love you, Aretha," and honestly, I can't think of a more perfect way for Grande to have made her exit — showing respect and honor to the late iconic singer. Check out the performance below:
Franklin's family set up a viewing for the singer in Detroit starting on Tuesday, Aug. 28, and Franklin was apparently dressed in a red dress and red stilettos, and her casket is all gold, which is the precise level of Aretha-Franklin-extra I hope to leave this world in. The viewing was held at the Charles H. Wright Museum of African American History in Detroit, Michigan.
Grande's performance of "Natural Woman" was a moving tribute to Franklin, who Grande had met a few times in the past. She even pitched Grande some music her nephew (or grandson, Grande doesn't remember) had made, and the story is so, so sweet.
Grande told Jimmy Fallon on The Tonight Show that Aretha Franklin called her one day out of the blue. Can you imagine getting a call from Aretha Franklin?! Of course, you can't, because stuff like that only happens to the singing greats. (Please don't doubt that Grande is one of them.)
Grande told Fallon, "I met her a few times. We sang at the White House and she was so sweet and she was so cute, and I was like, 'How are you a real person?'" She then went on to tell the story of the one time she got a call from Aretha Franklin asking her to listen to her family member's music.
Game recognized game here.
Fans thought Grande's performance for Franklin, who died of pancreatic cancer on Aug. 16, was beautiful, and took to Twitter to share their thoughts:
All hail the Queen of Soul, and thanks, Ariana Grande, for delivering such a heartfelt performance for someone who was a living legend.