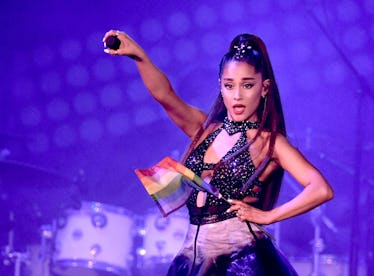 This Familiar Clue In Ariana Grande's "Thank U, Next" Video May Have Hinted At New Music
Kevin Winter/Getty Images Entertainment/Getty Images
Ariana Grande may have new music on the way — that's if a moment in her "Thank U, Next" video is to be believed. On Friday, Nov. 30, Grande released the heavily anticipated video, which pays homage to scenes from classic early 2000's rom-coms, including Bring It On, Legally Blonde, Mean Girls, and 13 Going on 30 — and there appear to be some clues seamlessly weaved in that could hint to forthcoming jams. Ariana Grande's "Needy" shirt in the "Thank U, Next" video, for example, seriously raises questions about what the pop princess might have up her sleeve. Elite Daily reached out to Grande's representatives for further comment on the shirt and whether "Needy" is an upcoming song from Grande, but did not hear back by the time of publication.
With all that goes on in the video, from the recreation of the Mean Girls' "Jingle Bell Rock" dance to the cute cheerleader uniforms that play off of Bring It On, it's easy to overlook the tip. The shirt appears in the scene when Grande is strutting down the halls with her four girlfriends, mirroring the scene in Mean Girls, all of whom are dressed in pink. In the movie, Rachel McAdams' character, Regina George, sported a shirt that said "A Little Bit Dramatic," but Grande ditched the phrase in the recreation for a shirt that says "A Little Bit Needy."
The thing is, back in October, the songstress previewed a snippet of an unreleased song on Twitter, where she sang: "I can be needy / Way too damn needy / I can be needy / Tell me how good it feels to be needed."
She tweeted those lyrics again on Nov. 24, accompanied with a photo of the "Needy" shirt from the "Thank U, Next" video," prompting endless speculation throughout the Twitterverse.
To add more fuel to the potential new-music-on-the-way fire, let's talk about the video for "Breathin'," a single from her 2018 album Sweetener, which was released on Nov. 7. The video shows Grande looming around a train station while travelers bustle around her. At one point, the station's departure board comes into focus, but instead of featuring destinations, it appears to show song titles and — you guessed it — "Needy" is on there. I'm on to you, Grande...
According to Teen Vogue, a fan took a screenshot of the board, calling out the apparent tracklist on Twitter, and the response was wild. Grande followed up by liking the tweet, suggesting that the fan was, indeed, on the right track. If that's not enough evidence that Grande is coming, IDK what is.
Until then, her recently released album Sweetener, and the incredibly fetch "Thank U, Next" video and all its gems are here to tide you over. From the flirty messages to Big Sean to her subtle message about Pete Davidson's, um, big d*ck energy, there's enough entertaining content to keep you satisfied until she drops new music (whenever that is).
Alexa, play "Thank U, Next."