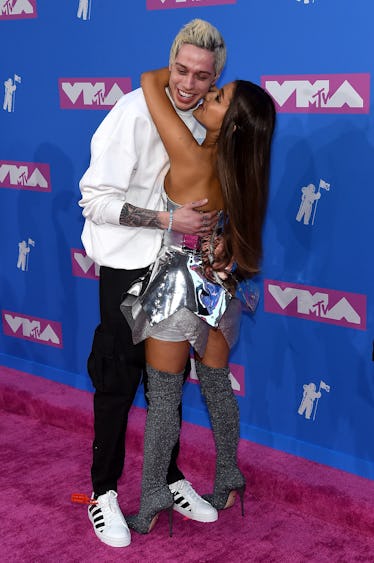 Ariana Grande & Pete Davidson's First Kiss Story Is Literally So Pure, I Can't
Jamie McCarthy/Getty Images Entertainment/Getty Images
Hey, do you like knowing really personal and intimate details about other people's relationships? Well if you do, you're in luck, because I've got some deets about our current favorite couple, Ariana Grande and Pete Davidson (sorry, Justin and Hailey). More specifically, the world was filled in on Ariana Grande and Pete Davidson's first kiss story, and let me tell you, it is almost too pure for this world. Seeing the couple so head-over-heels crazy in love with each other, you'd initially think that their first kiss was like, a full-on, hot 'n heavy makeout sesh, but the way our girl describes it, that couldn't be further from reality. Let's talk about it, shall we?
The "God Is A Woman" singer chatted with Nicki Minaj on Thursday, Aug. 30, on an episode of Minaj's Queen Radio and spilled the tea about what her first kiss with fiancé Pete Davidson was really like.
Grande told Minaj that their initial kiss was "so sick" and "so dope," and I'm sorry, are we talking to Ariana Grande or Pete Davidson? Because I can see those words coming directly out of his mouth right now. C'mon now, am I right or am I right?
So sick, so dope.
Anyway, Grande continued, recalling how the kiss first started. "It was so cute," she said during the Apple Music Beats 1 show, adding, "He asked my permission to kiss me."
OK PETE DAVIDSON, WE SEE YOU.
Grande revealed that is wasn't "too naughty of a kiss," but also added that it was "really sweet" and "really sexy."
Honestly, that sounds like a pretty great first kiss to me. A kind of chivalrous man who asks permission first, then goes in for the kill with a kiss that's powerful but not, like, overbearing. I'd say overall, it's a 10/10, would highly recommend.
While we didn't get to witness their first kiss (that would be very, very weird), we have seen the two smooch a lot since then, and it's pretty damn adorable. After the 2018 MTV Video Music Awards on Aug. 20, Grande put on a small concert for her fans — one of her Sweetener Sessions — and at one point in the show, walked to the side of the stage and kissed Pete Davidson in front of all of her fans.
Naturally, fans captured the whole thing on video and posted it on social media, where the rest of the world was #blessed to watch it all go down:
And don't worry: if you're one of those people who roll their eyes when a couple is soooo in love, Ari feels you.
The "Pete Davidson" singer went on Good Morning America to speak with Michael Strahan, and revealed that she completely understands that they are annoying when it comes to showing each other so much love on social media and IRL.
"We're so annoying, huh? It must be the worst," Grande said to Strahan, and honestly, I'm totally cool with couples who show off massive PDA, so long as they acknowledge that they do it.
When asked how she knew that Davidson was the one for her, Grande said:
I mean, it's just like a feeling. That's so cheesy. Like, people are always like, 'When you know, you know.' And you're like, 'Oh, yeah. Whatever. OK.' You just feel it, you know? All of it. He just ticks every box, and just gets better every day, and I'm very grateful for him. Life is beautiful.
I'm not crying, you're crying!
OK, fine, I'm crying. And you know what? IDGAF, because Ariana Grande and Pete Davidson's love is beautiful, y'all.