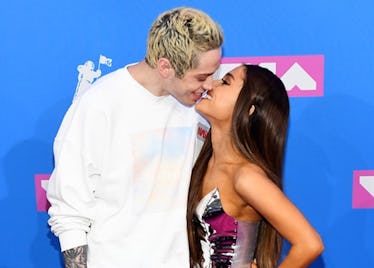 Ariana Grande Surprised Pete Davidson With The Cutest Kiss At Her Concert Last Night
Nicholas Hunt/Getty Images Entertainment/Getty Images
Ariana Grande and Pete Davidson had a lot of fun last night, in case you missed it. The couple did their first red carpet appearance together at the 2018 MTV Video Music Awards, and Grande had a huge night of performing "God Is A Woman" live for the first time and taking home the win for Best Pop video for "No Tears Left To Cry." After the show, Grande put on an intimate concert for her fans and showed a lot of PDA with Davidson during the concert. Pete Davidson's reaction to Ariana Grande kissing him at her concert is literally the cutest thing I've seen all day. These two, you guys. These two. I used to think they were annoying, but now I love them with all of my soul.
Grande's concert was one of her Sweetener Sessions — a series of small concerts where she'll be performing her new album for chosen fans. This particular session went down right after the VMAs in New York City on Aug. 20, and Pete Davidson handled her introduction and was there throughout the whole concert dancing and singing along.
One moment, in particular, had fans shook, and it was when Grande walked to the side of the stage, face shielded by her sweatshirt, and planted one on her fiancé.
The reaction of the fan recording this video is... admittedly extra as hell. But hey, I've reacted just as intensely to seeing Beyoncé live, so who am I to judge, really.
Grande sauntered back on stage after the cute moment and sang the album's titular song, "Sweetener." Davidson was dancing all giddy and sh*t like the supportive fiancé he is.
You can tell these two are just hella in love with each other.
Grande, of course, sang "Pete Davidson" during the Sweetener Session.
One week ago this video would've been nauseating to me, but I have to admit I stan this couple now. BRING ME ALL THE "PETE DAVIDSON" PERFORMANCES.
Grande apparently wrote the track for the Saturday Night Live actor just a week after they started hanging out. She told Jimmy Fallon that she wrote it and sent it to him immediately because she had no reason to hold her feelings back, and clearly it worked. "[I wrote it] like a week after we started hanging out," she told Fallon. "I just made it and sent it to him. I didn't know what to call it, so I just called it 'Pete'." "It was either going to be that, or like, 'This Is About Pete Davidson.' I was like, 'Why not?' You know?"
Ariana Grande's "Pete Davidson" lyrics go,
I thought you into my life (Woah) / Look at my mind / No better place or a time / How they align / Universe must have my back / Fell from the sky into my lap / And I know you know that you're my soulmate and all that / I'm like ooh, ooh / My whole life got me ready for you / Ooh, ooh / Got me happy, happy / I'ma be happy, happy, yeah / I'ma be happy, happy / Won't get no crying from me, yeah
It's short and sweet and romantic as hell, and I imagine Davidson and Grande made out again right after she sang it at the Sweetener Session.