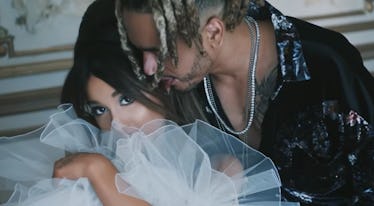 Ariana Grande & Mikey Foster's Body Language In The "Boyfriend" Video Is So Sweet
Ariana Grande is out here living her best life in 2019. The singer seems to know exactly what fans want, and her newest single "Boyfriend" is just further proof of her talent. The song is about that torturous feeling of having a crush on someone you can't have and seeing them with someone else. Grande collaborated with Social House on the song, and Mikey Foster and Scootie Anderson starred in the video alongside her. The intense chemistry between Grande and Foster made fans wonder if there was something brewing between them. Fortunately, Ariana Grande and Mikey Foster's body language in the "Boyfriend" music video shows that these two have a real shot at romance in the real world, at least according to one expert.
Rumors that Grande and Foster are dating have been floating around ever since the "Boyfriend" video dropped on August 2, but since neither one has commented on the rumors, it's kind of impossible to know whether or not they're true. Elite Daily previously reached out to representatives for both Grande and Foster, but have yet to hear back. Even if they aren't an item in real life, it's obvious that Grande and Foster have a real connection, though it could just be platonic. Their chemistry in the "Boyfriend" video is amazing, and they would make an adorable couple. But don't just take my word for it. Body language expert Patti Wood analyzed the maybe-couple's chemistry in the video, and they definitely have it going on.