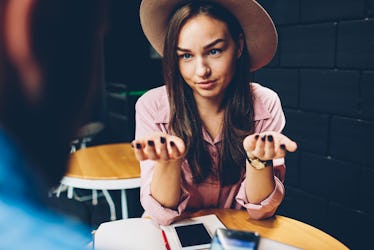 Next Time You Argue With An Earth Sign SO, Do It Like This To Avoid Drama
In every relationship, there will probably be times when you disagree with your partner. Whether that discussion stays productive and healthy or blows up into a huge fight can depend quite a bit on how you approach the subject. That is especially true when it comes to arguing with an earth sign partner, aka Taurus, Virgo, or Capricorn.
While these signs tend to be grounded, practical, and loyal partners, getting into an argument with an earth sign can feel like you're hitting a brick wall, especially when you're under-prepared. These signs tend to really know their own minds, to say the least, and they can be very stubborn. (Yeah, Taurus, I'm looking at you.) That's because when an earth sign feels as though they, or their ideas, are under attack, they can dig in their heels and shut down like no other.
But here's the good news: It doesn't have to be that way. It's totally possible to have a productive argument with one of these signs, so long as you know how to come prepared. Not only will this pre-game effort help facilitate a more constructive discussion in general, but your practical and prudent earth sign will appreciate and recognize the effort that you put in beforehand. (Well usually, anyway.) That's in part because it shows you respect their time (hello, Capricorn) and also because it means you've thought through the issue logically (and hello to you too, Virgo). So, before you have your next serious sit-down with you earth sign SO, here's what you might want to keep in mind.