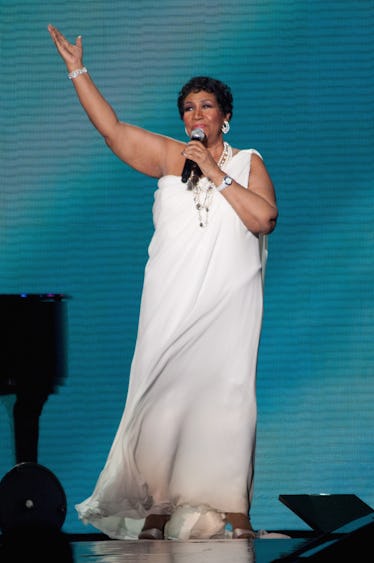 Aretha Franklin's 9 Best Fashion Moments Of The 2000s, Because She Was Queen Of Soul & Style
Daniel Boczarski/Getty Images Entertainment/Getty Images
Another musical legend has sadly left us. On Thursday, Aug. 16, The Associated Press confirmed that Aretha Franklin passed away at age 76, after battling pancreatic cancer. But while the Queen of Soul was best known for her exhilarating vocals and instrumental skills, Aretha Franklin's best fashion moments were always sure to leave crowds in awe. From her early days in the late '50s, wearing everything from voluminous wigs and form-fitting gowns, to embracing the bedazzled frocks of the '70s, to the extravagant fur and animal prints in the '80s and '90s, Franklin proved she was a "Natural Woman" who would always choose classic style over fashion — keeping these iconic looks going well into the 2000s and beyond.
The world will surely miss Franklin, not only for her enchanting music and stage presence, but also her brave activism over the years. Not to mention, she's also proved that, no matter what society says, women don't have to stop having fun with fashion at any particular age or size. So without further ado, let's take a trip down memory lane to remember some of the superstar's most memorable looks from most recent years.
2010
Rocking feathers, sequins, and a handbag while being inducted into the Apollo Legends Hall of Fame back in June 2010, Franklin stunned in an embellished bronze gown to accept the honor and perform.
2011
In 2011, the iconic performer wore an all-white, one shoulder gown, complete with dazzling diamond and pearl necklaces while performing at Surprise Oprah! A Farewell Spectacular, according to W Magazine.
2012
Caftans became a staple in the queen's wardrobe over the years, and she made sure hers were, of course, the most chic. Here she is in 2012, belting out her top hits at the 10th annual TV Land Awards, wearing an embroidered frock with metallic accents.
The caftan — this time in green — made a second appearance during a performance in 2012 at the Thelonious Monk International Jazz Drums Competition and Gala Concert.
Franklin showed up to the 2012 Kennedy Center Honors wearing a gorgeous silver and navy blue floor-length gown. Her signature pearl necklaces also made an appearance, and she opted for a straight 'do with bangs for the evening.
2015
Franklin rocked an appearance at the Mica and Ahmet Ertegun Atrium opening at Lincoln Center in 2015, wearing a sleek, long white gown with black mesh and floral detailing at the top, a grey fur coat, and a silver handbag.
2016
The Motown superstar looked radiant in a shimmering champagne-colored gown as she walked the red carpet for the 102nd annual White House Correspondents' Association Dinner in 2016.
2017
The Detroit native twirled in a stunning white gown with gold floral accents as she performed at the 2017 Tribeca Film Festival Opening Gala, at New York City's Radio City Music Hall, according to Us Weekly.
You better believe that Franklin was still going strong at 75 when she wore a sparkly gold gown with floral accents to sing at Elton John AIDS Foundation Gala in 2017, Yahoo reports. Here, she poses backstage with former president Bill Clinton.
Rest in peace, sweet queen. The fashion world will be missing you.