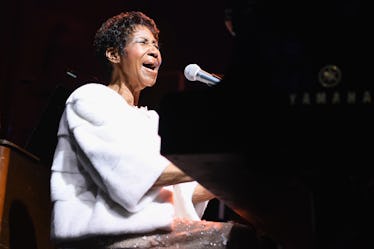 Aretha Franklin Has Died At The Age Of 76
Dimitrios Kambouris/Getty Images Entertainment/Getty Images
It's a sad, sad day for the music world. Aretha Franklin, who many know as The Queen Of Soul, has died at the age of 76. According to the Associated Press, Franklin's publicist confirmed that Aretha Franklin died on Thursday, Aug. 16, at her home in Detroit.
According to the Associated Press, an anonymous source close to Franklin said that the "Respect" singer was "seriously ill," on Monday, Aug. 13, but no further details were provided.
Franklin's health seemed to be a concern back in 2017, when, at the end of her performance in Detroit, she asked fans to "please keep me in your prayers." Though Franklin provided no concrete details, she did have to cancel two New Jersey performances in March 2018, and was told by doctor's to stay off the road for at least the next two months.
In a statement given by Franklin's management team at the time, it said that Franklin was "extremely disappointed she cannot perform as she had expected and hoped to."
On the morning of Thursday, Aug. 16, The Associated Press took to Twitter to deliver the sad news of Franklin's death:
BREAKING: Publicist for Aretha Franklin says the Queen of Soul died Thursday at her home in Detroit.
Just days before Franklin's death after reports that her health was failing, Beyoncé dedicated her entire Detroit concert to her during her and JAY-Z's On the Run II Tour.
On Aug. 13, The Detroit News took to Twitter to tell its readers what Beyoncé reportedly said during her performance. The publication wrote,
Beyonce opens her show with Jay-Z at @fordfield with a tribute. "This show is dedicated to Aretha Franklin," she says. "We love you and thank you." #OnTheRun2
Since the news of Franklin's death, many have taken to social media to grieve the loss as well as pay tribute to the woman who was one of the most highly regarded artists of all time:
Franklin's family released the following statement after it was confirmed by Franklin's oncologist that her official cause of death was due to advanced pancreatic cancer. In part, it read:
In one of the darkest moments of our lives, we are not able to find the appropriate words to express the pain in our heart. We have lost the matriarch and rock of our family. The love she had for her children, grandchildren, nieces, nephews, and cousins knew no bounds ... We have felt your love for Aretha and it brings us comfort to know that her legacy will live on. As we grieve, we ask that you respect our privacy during this difficult time.
Aretha Franklin's music transcended age, race, and gender, and her voice was easily one of the most recognizable and most powerful to listen to, and this truly marks the end of an era now that she is gone.
Our hearts are heavy with the loss of such a legendary icon. But the legacy she leaves behind will live on forever.