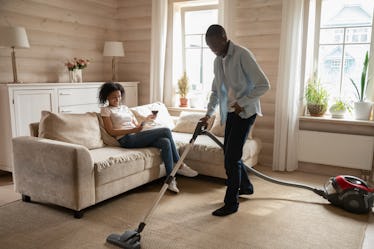 6 Small Gestures That Could Mean You're In A One-Sided Relationship
Shutterstock
Figuring out the dynamics of relationships can be tough. Sometimes, it's not clear if one person is doing more or less of the emotional (or physical or logistical or any type of) work to make a relationship function, or if both people are equally invested. It can be stressful trying to figure out if you're both putting in the same amount of effort, so I turned to the experts to get an idea of what gestures mean you could be in a one-sided relationship. After all, having a little more information about the relationship can be really helpful in communicating your needs in the future.
Your relationship isn't doomed just because you think it's one-sided. The most important thing is that your relationship works for you. I've observed many relationships from the outside that seem one-sided, but internally, both partners feel good about what the other one is bringing to the relationship. For example, my friend Helena drives her boyfriend everywhere, but he does more around the house. I feel like she does way more work than he does, but only because I personally don't know how to drive. It works for them, which is what really counts. However, if you're in a situation where you're worried you're not doing enough work, or you're upset that your partner doesn't seem to care as much as you, you might feel like your relationship is too one-sided.
Read on to find six signs that your relationship may be one-sided.