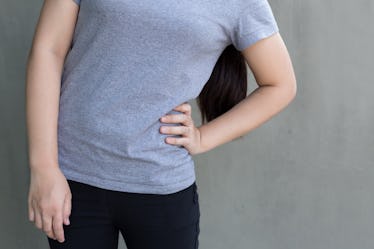 6 Things You Should Know About Wearing A Waist Trainer, According To Experts
There's really no denying the fact that the society we live in, and the millennial generation specifically, loves a quick fix — especially when it comes to body image and working out. It's easy to fall into the trap of "miracle" supplements and body-shaping products that promise to change the way you look, but are waist trainers bad for you? Our culture has painted a picture of an "ideal" physique, and while there's absolutely nothing wrong with naturally having a tiny waist, curvy legs, and a protruding bust, every body is beautiful in its own way, and each deserves to be celebrated and appreciated accordingly. And, look, here's the thing: Striving for a specific type of body will almost always set you up for failure. Not only should a healthy lifestyle be about finding ways that make you feel good rather than look good, but experts also want you to know waist trainers just aren't the answer.
If you have absolutely no idea what a waist trainer is, you probably haven't been keeping up with the Kardashians, who have posted selfies donning the body-sculpting product in the past. Modern day waist trainers are basically corsets or latex cinchers worn anywhere from three to six (or more) hours per day to "enhance" a woman's shape by tightening her waist and giving the illusion of a curvy bust and thighs. It sounds almost too good to be true, because it is.
When you're looking for fast results and watching all of your favorite A-listers transform with just a single wardrobe change, it's easy to consider donning a waist trainer for yourself. But the truth is, this body-shaping magic trick is nothing more than an illusion — and an unhealthy one at that. Here's what experts have to say about waist trainers. Fair warning: It's nothing good.