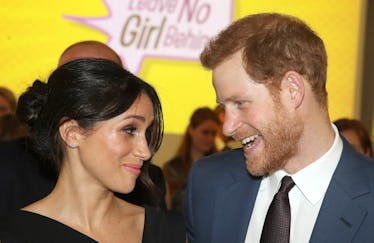 A Divorce Expert Weighs In On Whether Second Marriages Are More Likely To Last
Chris Jackson/Getty Images Entertainment/Getty Images
As I sit in front of my Macbook, thinking about a very famous marriage about to happen between a royal and a previously-married American plebe, I couldn't help but wonder: are second marriages more likely to last? (I also couldn't help but wonder, do I write about dating on an Apple computer because Carrie Bradshaw did? But I digress.) Meghan Markle and Prince Harry's impending nuptials are getting closer, and I keep forgetting the Lifetime-star-turned-princess was married once before.
This is probably because because unlike the Queen, I give zero effs about how many times a person has been married in their life. (Did you see The Crown? Princess Margaret had to ask her sister for permission to marry Group Captain Peter Townsend, a divorcé; the queen said no because she is the head of the Church of England, which teaches that marriage is for life.) Meghan Markle and producer/talent agent Trevor Engelson — who looks like he could have belonged to the same fraternity as Prince Harry, you know, if royals were Americans who joined fraternities — were married in 2011, and separated in 2013.
But I'm not going to bore you with any more details because girl was just living her best life and happened to end up divorcing her hubby in the same way about half of the U.S. population does. Plus, if I could see into the future and know that I'd eventually become a princess, I would have gotten divorced, too.
Though I have never been married or divorced, I would imagine that a second marriage would have a higher chance of success than a first marriage, since at least one of the parties entering the relationship knows what to expect. However, according to the American Psychological Association, second marriages have a higher rate of divorce.
While I am absolutely not suggesting that Prince Harry and Meghan Markle's marriage will end up in divorce, because they are adorable and I am not in the prediction business (see: the 2016 election), I do want to understand these statistics more. I spoke to divorce attorney and expert Michelle Afont about why second marriages end in divorce more often than first marriages.
Second Marriages Come With Baggage
While the end of a first marriage comes with some experience and wisdom, it also comes with baggage. "Many second marriages are not likely to last based on three simple influences: kids, exes, and finances," says Afont. "Most second marriages begin with some pretty extensive history attached to them." The process of getting divorced itself is expensive, but it can also be tricky to navigate debt and child support when one's assets were previous merged. "These issues can cause some pretty heavy friction between the newly married couple," explains Afront.
Sometimes, There's Too Much Pressure On A Second Marriage
When a first marriage doesn't work out, people can feel as though they failed. While this is not true, it's easy to look for the next exciting love, and to really count on it working out. "Most people that enter in second marriages get caught up in the thrill of starting fresh and savoring the blossom of new love," explains Afont. "As with any marriage, the honeymoon period does wane and reality sets in." This is where the bitter exes, the logistics of children visiting both parents, and financial complications all come into the equation. Alas...
But don't despair, Meghan and Harry! You are not a U.S. statistic, plus, there are plenty of ways to navigate a second union. "The best advice I have for a second marriage is to be united as a couple," explains Afont. "Standing united is crucial to marriage longevity."
And for further advice? Make sure you have things in common with your spouse. "With your first marriage, it is often the building of the family unit that occupies the marriage," says Afont. "With a second marriage, that phase of life has likely been satisfied, and now the focus is on the second marriage as a couple." She adds that having common interests will help you navigate the stresses that come up with marriage.
At the end of the day, statistics are just that: statistics. Data that applies to a group, not one particular couple. A second marriage can thrive, or it can falter, but to bring back my inner Carrie: I do believe that true love will always find its way, even if it means it has to go all the way to Paris to save you from your emotionally abusive older boyfriend. Cheers to Harry and Meghan!