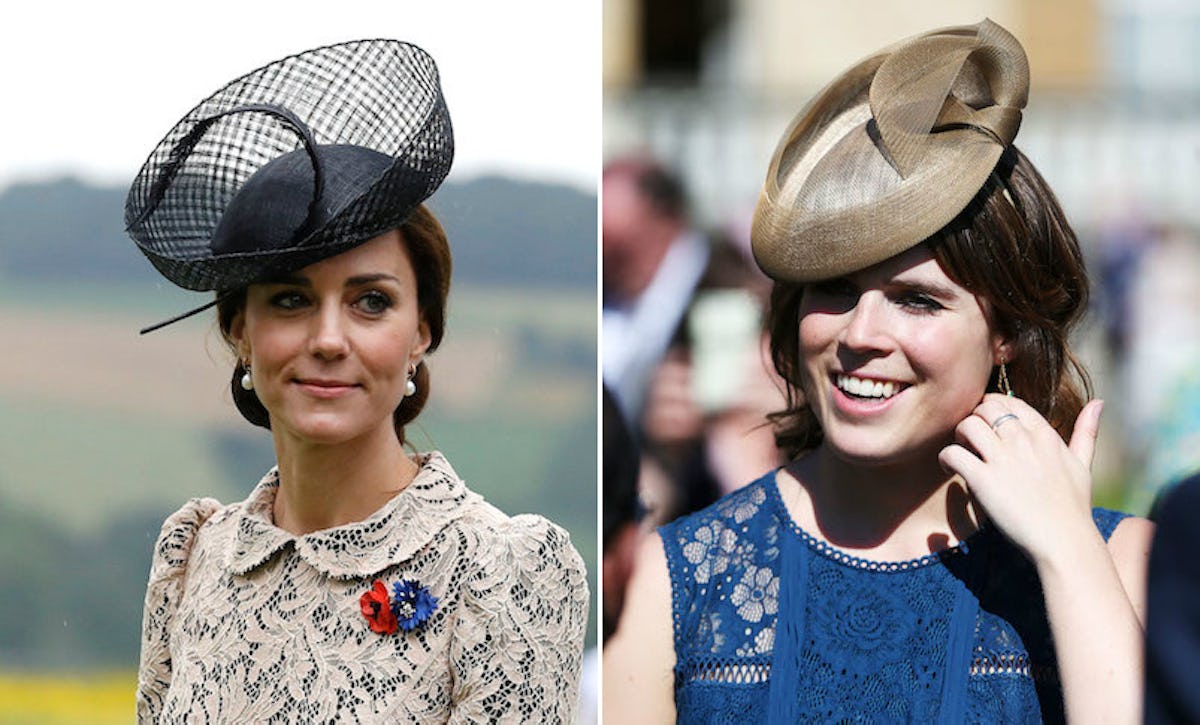 Here's What We Know About Princess Eugenie & Kate Middleton's Relationship
WPA Pool/Getty Images Entertainment/Getty Images
Whenever I think of the royal family, I imagine the *entire* family gathered around a really, really big table, laughing over tea and crumpets and maybe watching an episode of The Great British Baking Show. While I know that this obviously can't be true (these people are busy, y'all), I do often wonder if the entire family gets along. Does the queen text Meghan Markle? Does Prince Harry grab dinner with Princess Beatrice from time to time? Are Princess Eugenie and Kate Middleton friends? While I'm unable to answer the first two questions (though if I had to guess, my answer would probably be no to both, sadly), I do have a little bit of intel on Princess Eugenie and Kate Middleton's relationship, and where exactly they stand in terms of friendliness.
As you bloody well should have heard by now — I took a shot guys, I really did — Princess Eugenie will be marrying fiancé Jack Brooksbank on Oct. 12 at St. George's Chapel at Windsor Castle. There are about a casual 1,200 members of the public who have been invited to attend, and it seems that the members of the royal family will also be invited, including the Duke and Duchess of Cambridge. So, even though there's no indication that Princess Eugenie and Duchess Kate Middleton are super close, it's obvious that they're close enough to each score an invite to the other's wedding.
There is one small thing that might prevent Kate Middleton from attending the wedding, though: According to The Express, Kate's sister, Pippa Middleton, is due to give birth right around Princess Eugenie's wedding date. Given how close the two sisters are to each other, it would be completely understandable if the Duchess of Cambridge needed to cancel her date to the wedding to go be by her sibling's side if Pippa was to go into labor.
If you're wondering whether William and Kate's children Prince George and Princess Charlotte will be in Princess Eugenie's wedding, it seems like there's a pretty good chance of that happening. According to Harper's Bazaar, Eugenie has enlisted Prince George to be a page boy (yes!) and Princess Charlotte to be a flower girl (double yes!). So once again, Kate and Eugenie must have some degree of friendship if Eugenie has asked for Kate's children to be in her wedding party.
But first, let's all take a minute to remember how Prince George basically stole the show at Prince Harry and Meghan Markle's wedding:
I seriously cannot deal with his cuteness!
I'm hoping that we get to see Prince William, Kate Middleton, Prince George, Princess Charlotte, and Prince Louis all at Princess Eugenie's wedding, because they're the cutest damn family I've ever seen. And even though little Prince Louis is not even half a year old just yet, I'm really rooting for him to make some sort of debut.
If we happen to get blessed with an appearance from Kate Middleton at Eugenie's wedding, The Daily Express believes that her outfit will be pared-down so as not to upstage the bride in any way. Personally, I'd consider that as good a friend as any. And just a friendly reminder to everyone, don't wear white, or you'll look like this:
Not a good look, guys.
So let's all cross our fingers and hope to see the big, happy family all together as Princess Eugenie walks down the aisle.