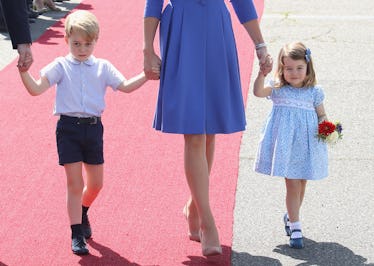 Here Are The Odds Prince George & Princess Charlotte Will Be In Princess Eugenie's Wedding
Chris Jackson/Getty Images Entertainment/Getty Images
Prince George and Princess Charlotte have wowed the world with their cuteness since day one. And they've been especially cute while participating in their family's various weddings. Both had special roles at Prince Harry and Meghan Markle's wedding. And they were both in attendance at Pippa Middleton's wedding. Given how involved they've been during family celebrations, lots of people are asking themselves one question: Will Prince George and Princess Charlotte be in Princess Eugenie's wedding? Well, you can bet on both of those little cuties making an appearance on Eugenie's big day.
According to Harper's Bazaar, Eugenie has selected Prince William to be a page boy and Princess Charlotte to be a flower girl during the Oct. 12 wedding. Prince Charlotte will reportedly lead all the flower girls on the big day, so she definitely has her work cut out for her. But little Charlotte is well prepared for such a big role. After all, she served as a bridesmaid at Prince Harry and Meghan Markle's wedding, as well as Pippa Middleton's wedding. Needless to say, Princess Charlotte is likely ready to take on the challenges of the day.
Prince George has experience in this arena, too. This time, though, he'll bring a classmate along for the ride. According to an August 2018 report from Hello! Magazine, George's classmate will likely serve as a bridesmaid. The classmate, Maud Windsor, is the 4-year-old daughter of Lord Frederick Windsor and Sophie Winkleman. Her dad is 48th in line to the throne and is the son of Prince and Princess Michael of Kent. He's actually the first cousin once removed of Queen Elizabeth II, so little Maud is a distant relative.
In any case, it seems like Eugenie's wedding will be busy with little royals running around. I'm sure it'll be a very cute scene for everyone who attends.
Speaking of attendees, Eugenie has invited 1,200 members of the public to watch her get married. Given that so many people will be there to witness the nuptials take place, it's probably safe to say that Eugenie's wedding will rival that of Harry and Meghan. It'll be a sizable affair, for sure, but it'll still be pretty low-key.
Like Harry and Meghan, Eugenie and her long-time love Jack Brooksbank will tie the knot at St. George's Chapel at Windsor Castle. While most royal couples are known to marry at Westminster Abbey, the royal family has elected the chapel for Eugenie's big day. And you know what? It's a perfectly good fit, especially since it seems like Eugenie and Brooksbank are rather low-key themselves.
Unfortunately, the wedding won't be airing on TV. While the BBC confirmed they'll have news coverage of the special day across their networks, they won't commit any airtime to the ceremony itself. So, fans of the royal family who are hoping to catch a glimpse of their favorite royals will just have to wait for the press photos. I'm sure there'll be at least some footage from the day's festivities, though. I guess everyone will just have to wait and see.