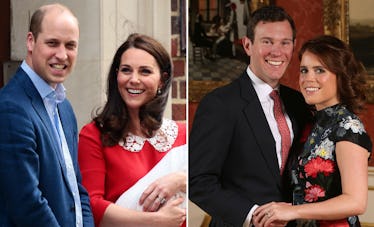 Here Are The Chances Prince William & Kate Middleton Will Be At Princess Eugenie's Wedding
Jack Taylor/Getty Images; Jonathan Brady - WPA Pool/Getty Images
There's another royal wedding on the horizon and this time it's Princess Eugenie of York's turn to walk down the aisle. Princess Eugenie, who is Prince William and Prince Harry's first cousin, will tie the knot on Oct. 12. And that has royal family enthusiasts asking lots of questions. The main one on their minds is this: will Prince William and Kate Middleton attend Princess Eugenie's wedding? Well, the chances of them attending are looking pretty good right now.
Since Kate was on a lengthy maternity leave after giving birth in April, she's been making very sporadic public appearances as of late. So, a lot of folks have wondered whether they'd see her at yet another royal wedding. She was, of course, present when Prince Harry and Meghan Markle, Duke and Duchess of Sussex, married in May. And she's been seen here and there over the last few months. Now that Prince Louis is nearly 6-months-old, Kate decided she was ready to step back into the public eye just last month. Kensington Palace also announced in a tweet that Kate would officially return to her royal duties after her maternity leave with a visit to Sayers Croft Trust Forest School and Wildlife Garden at Paddington Recreation Ground on Oct. 2. And that means the chances are really good that she and William will be at Princess Eugenie's wedding.
And why wouldn't they be there? Princess Eugenie is family, after all. Plus, the wedding has been set up so that it's nearly identical to Harry and Meghan's wedding, which makes attending all the more convenient. For those of you not in the know, Princess Eugenie will marry her long-time beau Jack Brooksbank at St. George's Chapel at Windsor Castle. Just about 1200 members of the public have been invited to attend, so even though it's a smaller affair than other royal weddings, it's definitely going to be an event to remember.
All those details aside, though, the media is already speculating about what Kate might wear to Princess Eugenie's wedding. The Daily Express already theorized that Kate will go with something a little more low-key so that everyone's eyes are glued to the bride. Obviously, Kate is a fashion icon at this point, so anything she wears will be coveted by the masses.
Unfortunately, though, those masses won't get to see what Kate, Meghan, or Princess Eugenie will wear on their TV screens at home. Unlike Harry and Meghan's wedding, Princess Eugenie's marriage to Brooksbank will not be televised by the BBC.
Despite the royal family's request that the network air the wedding on television, the BBC reportedly declined. In a recent report from Mail on Sunday, a source close to the situation revealed that the BBC allegedly refused to air the wedding because "they don't think enough people will tune in and that there isn't enough support for the Yorks."
"The feeling at the Palace is that the BBC has dropped the ball," the source said. "At the end of the day this is going to be a huge Royal Wedding, with all the senior members of the Royal Family in attendance. But nobody wants to take the risk and spend the money it would cost to put it on air."
So, if you're hoping to catch a glimpse of the fashion highs at lows at Princess Eugenie's wedding, you'll have to wait for press images. There's no doubt that Kate and William will be serving up some incredible looks, though. I imagine Harry and Meghan will do the same!