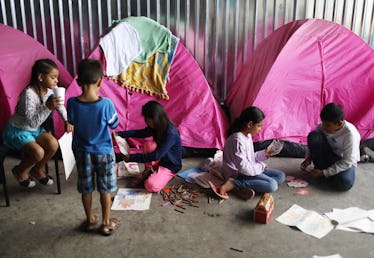 People Have Reportedly Stopped Being Prosecuted At The Border, But There's A Catch
Mario Tama/Getty Images News/Getty Images
President Donald Trump's executive order about family separations, which halts the practice of separating migrant families from their children at the United States' southern border, has only deepened confusion regarding the fate of the parents awaiting prosecution. But there's apparently a new change happening amid all the drama, so if you've been wondering if people crossing the border are still being prosecuted, here's what you need to know. But please be advised: there is a bit of a catch.
Kevin McAleenan, the head of U.S. Customs and Border Protection (CBP), told the Associated Press on Monday, June 25 that the department has stopped referring adults who have illegally crossed the border with children for prosecution — for the time being, at least. Trump's executive order means families can't be separated, which in turn means that adults can't be prosecuted because children can't go with them to jail. However, McAleenan also said CBP is already reportedly working on a solution to resume referrals for prosecution, so it's unclear how long the suspension will last.
Andrew Meehan, Assistant Commissioner of CBP Public Affairs, tells Elite Daily in an emailed statement:
U.S. Customs and Border Protection is working through implementing the President's Executive Order in conjunction with the Department of Justice and is taking temporary action until Congress can find a lasting solution to family separation and we encourage them to act.
As for adults who have already been referred for prosecution, Attorney General Jeff Sessions said on June 25 that federal prosecutions for them would continue. But he insisted the government will "do everything in our power" to avoid the practice of separating families, as noted by The New York Times.
McAleenan's decision to suspend the referrals reportedly came just hours after Trump announced the border executive order on June 20, which aims to end family separations. In the announcement, Trump said — although he wasn't backing down from his administration's "zero tolerance" policy — he supported the idea of keeping families together.
"It's about keeping families together, while at the same time being sure that we have a very powerful very strong border, and border security will be equal if not greater than previously," Trump explained to reporters as he signed the executive order. He said,
So we're going to have strong very strong borders, but we're going to keep the families together. I didn't like the sight or the feeling of families being separated. It's a problem that's gone on for many years, as you know, through many administrations. And we're working very hard on immigration, it's just been left out in the cold. People haven't dealt with it, and we are dealing with it.
The zero tolerance policy has prompted harsh criticism from all over, including from human rights advocates, celebrities and even former first lady Laura Bush. Since its implementation, more than 2,300 children have reportedly been separated from their parents and held in detention facilities while the adults remain in federal custody awaiting prosecution. However, the Department of Homeland Security (DHS) recently established a policy to reunite families following Trump's new executive order. As of June 23, 522 migrant children have been reunited with their guardians.
But the reunions aren't happening so quickly for everyone. A DHS factsheet released June 23 said that as of June 20, there were still more than 2,000 children in U.S. custody waiting to be reunited with their families.
Additionally, the factsheet says a "small number" of children won't be reunited with their parents for one of the following three reasons: a "familial relationship cannot be confirmed, we believe the adult is a threat to the safety of the child, or the adult is a criminal alien."
Some of these updates are seemingly a step in the right direction. But, all things considered, the suspension of referrals for prosecutions only appears to be a short-term fix in a critical problem. There's, undoubtedly, a long road ahead.