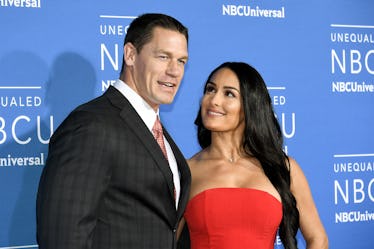 Here's Where Nikki Bella & John Cena's Relationship Stands After Their Second Split
Dia Dipasupil/Getty Images Entertainment/Getty Images
Nikki Bella and John Cena have called it quits. Again. Following months of back and forth surrounding the status of their relationship, the Total Bellas star released an exclusive statement to People announcing the news of their split. And from the sound of it, Bella called the shots. "I had a beautiful and loving 6-year relationship with a wonderful man," she wrote. "I have the utmost respect for John, but I know that is what's best for me." I'm so here for the WWE Diva's decision to look out for herself first, but it begs the question: are Nikki Bella and John Cena still friends?
Their first breakup bombshell hit social media April 15 and fell just weeks ahead of their impending nuptials. After trailers for Bella's E! series Total Bellas suggested trouble in paradise, she issued a joint comment via Instagram revealing the separation. "While this decision was a difficult one, we continue to have a great deal of love and respect for one another," the post read. According to reports from People, the decision stemmed largely from drama surrounding the ceremony. "The wedding they called off no longer felt like their wedding — it was a wedding for TV, a wedding for publicity, a wedding for the fans and for viewers," an insider dished.
By May, Bella had moved out of her shared home with Cena. However, during his May 14 appearance on the TODAY show, the Blockers star seemed to imply the possibility of a reconciliation. He said:
I still love Nicole, I still would love to marry Nicole, I still would love to have a family with Nicole.
"Okay, then what's stopping you?" I obviously screamed at my television. After announcing his willingness to reverse a prior vasectomy and give Bella a child, the pair seemingly reconciled. However, lingering tension over Cena's work schedule and uncertainty surrounding another wedding persisted. Despite claims that they were officially back on, Bella posted a vlog July 1 calling the couple "just friends." However, she did admit that she hoped for a reunion. "We talk every day. He is not only my best friend, but he truly is one of the most amazing people I have ever met."
Although June reports suggested the exes were working on the relationship and "taking it day by day," Bella finalized the decision on Instagram Monday, July 30. In a recent episode of Total Bellas, fans caught a glimpse into her reasoning. Through tears, she revealed:
I wish it could be different and I think that's why I've had almost six years of working on us and fighting and just taking in a lot. I just feel like I've hit the point that I'm just so exhausted and done.
Just hours after the TMZ published news of the split, Cena took to Twitter with a cryptic message. "If you can learn something from your experiences, good and bad, you will live with little to no regret," he wrote. Cena followed up the message a day later with, "Never fear trying, but never be blind to the lessons of failure." Sounds like he's walking away with a lot of love, and some important lessons.
For her part, Nikki told the outlet "I love him. I love him a lot," and told TMZ reporters she couldn't even think about dating someone else. Doesn't really sound like the words of a bitter ex on either end. While John Cena doesn't follow a soul on Instagram, Bella still follows him. It seems like a tough break for the former couple, and whether they rekindle things down the line or not, I'm confident a friendship is in their future.