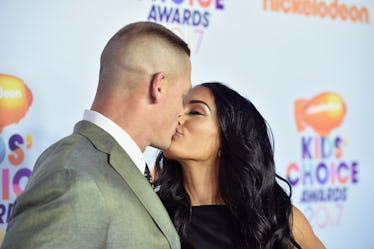 This Nikki Bella IG Post Could Mean Her Relationship With John Cena Is So Over
Alberto E. Rodriguez/Getty Images Entertainment/Getty Images
Nikki Bella and John Cena have really taken me on an emotional rollercoaster since they called off their engagement and went their separate ways back in April. From the WWE wrestler implying the possibility of a reconciliation in interviews to Bella's sad declarations that they're officially done, I'm still over here confused and wondering if Nikki Bella and John Cena are getting back together. While there's no way to call it, Bella's latest Instagram post is kinda telling.
In an Instagram post shared on Aug. 9 — what would've been their sixth anniversary — the Total Divas star said she would always have a special place in her heart for Cena and thanked him for the years they spent together, per E! Online. "You've changed me forever. I'll never forget you," the Instagram post read, along with the caption, "8/9 | 6."
Translation: this ship has sailed.
Although the twosome has had an off-again, on-again relationship since first breaking up in April, we probably could've seen this coming, as Bella seemed pretty firm in her decision to part ways in a breakup statement she shared on July 30. In the announcement, the reality star said that after "much time and soul-searching alone and together [with Cena]," she realized the breakup is what's "best" for her. The statement read:
After I called off the engagement, we tried to work on our relationship to get back to where it was, and in order to move forward with our wedding. After much time and soul-searching alone and together, we have decided to officially part ways. I had a beautiful and loving 6-year relationship with a wonderful man. I have the utmost respect for John, but I know this is what's best for me.
There's no word on what led to their decision to ultimately call it quits, but the prospect of parenthood was initially what caused a rift in their relationship. While Bella wanted children, Cena straddled the fence on the subject. However, he changed his tune once their wedding had been called off.
In a May 2018 interview on the Today Show, the wrestler opened up about their relationship, explaining that he was heartbroken and wanted to work things out with Bella.
I had my heart broken out of nowhere … or for me it was out of nowhere. Anyone who has experienced that knows it comes with a series of bad feelings … I love her. I want to be with her. I want to make her my wife. I want to be the father of her children. I just want us to work.
Bella admitted that Cena's change of heart caught her off guard, but apparently, it was too late. She explained:
I didn't give myself long enough the first time we called it off and I should have given myself longer, but I got so excited that he wanted kids. I couldn't believe it. I never thought I'd hear that. But I realized there were just such deeper problems.
It seems like it's safe to say that this romance is over. But at least the two appear to be moving on in a cordial and respectful manner, and if that works for them, it works for me.