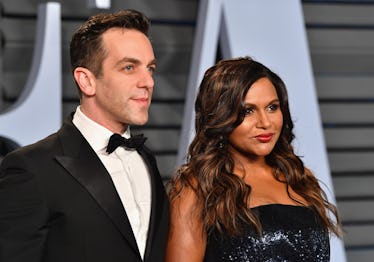 BJ Novak Sent Mindy Kaling Flowers & The Card Will Have You Sobbing
Dia Dipasupil/Getty Images Entertainment/Getty Images
Can we talk about Mindy Kaling and B.J. Novak for a second? Because I seriously need to know: I am the only one hoping these two have secretly been together all these years? I can't be alone in this, right? They just seem so perfect together that I refuse to believe they really ever broke up. Fans of the couple already know they attended the 2018 Oscars together. Now, B.J. just sent his former flame the most beautiful flowers. So, what gives? Are Mindy Kaling and BJ Novak dating? Probably not, but a girl can keep dreaming, can't she?
The pair met on the set of The Office, where Mindy played Kelly Kapoor and B.J. played Ryan Howard. Their on-again, off-again relationship started almost a decade ago while they were on set, and I still totally ship it, even though Kaling once described it to InStyle as "weird as hell."
"I will freely admit: My relationship with B.J. Novak is weird as hell," she told the publication back in 2015. "He's is not my boyfriend, but he is not my best friend. I guess you could describe our relationship as 'romantically charged camaraderie with loud arguments,' but I don't think Facebook would accept this as a new status."
TBH, "romantically charged camaraderie with loud arguments" sounds pretty universal to me, and I think Facebook should totally add it as an option. While fans all sit around and wait for that to happen, check out what the Champions actress shared on her Instagram story on April 17 — it's a picture of some seriously stunning white roses, sent to her by her not-boyfriend, not-best friend B.J. Novak, in honor of her first day on the set of her upcoming movie called Late Night. The film stars Kaling and Emma Thompson, and revolves around Thompson's character, a late-night talk show host who may lose her show until she hires her first female writer, played by Kaling. I'm not exactly sure when this big flick is gonna be released, but I can totally see Kaling in this role and I already can't wait to see it!
Anyway, here's a pic of the flowers Novak sent her:
"The prettiest flowers from @picturesoftext," Kaling captioned the pic. "White flowers are very classy for me. I'm sorry; white fleurs." I'm totally calling them that from now on. And check out that handwritten note from Novak on the bottom left that says "Congrats on Day 1. 'Love' 'B.'" So sweet, you guys! But those quotes around the word "love" may mean it's not love in the way I hope it would be. Also, she included an emoji that says "still friends." I think that's pretty clear.
Meanwhile, this isn't the only sweet sentiment Novak has shared about Kaling. Earlier this year, he tweeted a photo of a billboard of Kaling's character in A Wrinkle In Time, along with the most emotional caption.
"When I met @mindykaling she lived in a small apartment on Fairfax Ave.," he wrote. "This is what's in front of that building today. Congrats Mindy and a future congrats to all those who see you in it and are inspired to do great things."
Kaling later revealed on the Today show that she broke down in tears when she received Novak's amazing message.
"When I was coming up, there was no one who looked like me on TV or film, and that was such a nice thing that he remembered that," she told co-host Hoda Kotb on April 4. "I was so moved by that. If you dream big, you can get whatever you want."
Seriously, if these two can't make it work, what hope is there for the rest of us?