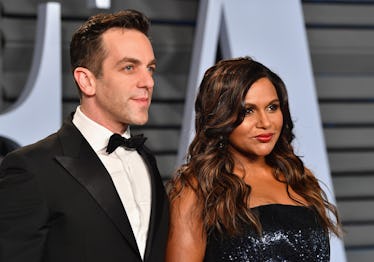 Mindy Kaling & B.J. Novak Went To The Oscars Together & The Video Is Everything
Dia Dipasupil/Getty Images Entertainment/Getty Images
They say life imitates art, but no one really expects it to do so at the Oscars. (Though one might argue the Moonlight win was dramatic enough last year that it could have ended a movie.) But it's the moments where our television fandoms cross with our real life fandoms. That happened tonight at the 90th Annual Academy Awards as Mindy Kaling and B.J. Novak's 2018 Oscars date became something directly out of The Office.
Kaling and Novak met on the set of The Office where they played Kelly Kapoor and Ryan Howard, respectively. Their relationship started while they were on set, but it was one of those on-and-off pairings where every time fans thought they had figured out the two of them were together, they'd already broken up again. The sort-of couple, sort-of best friends have been together for a decade, and now have a "weird as hell" relationship, according to Kaling. Kaling told InStyle in 2015,
I will freely admit: My relationship with B.J. Novak is weird as hell. He's is not my boyfriend, but he is not my best friend. I guess you could describe our relationship as 'romantically charged camaraderie with loud arguments,' but I don't think Facebook would accept this as a new status.
But with Kaling now in full promotional mode for A Wrinkle In Time, she was invited to the Oscars. That meant bringing a date, and who else but her "weird as hell" relationship buddy would do?
Check out the video she posted on Instagram.
It almost feels like a scene right out of The Office no? The Office goes to the Oscars... except it's like the Oscars of the Paper Industry, and Michael Scott is the one nominated for Best Reams. (I assume he loses to Ricky Gervais because that's the only outcome that would make sense in this scenario I just cooked up.)
Kaling and Novak's relationship comes from the fact that they're both Boston-bred and Ivy League-educated, and their love of both comedy and writing made them an incredible match, though also one that would be volatile since they are "too alike."
If Mindy was looking for a way to turn her Oscars appearance into a full-fledged fangasm, this was the way to do it, and not just because she and Novak are BFFs and fans hope that one day they get it together and just marry already, but because of the baby she had last year.
When Kaling first announced her pregnancy (or, well, when Oprah announced it for her) she was absolutely tight-lipped over who the father was. This made Mindy-B.J. fan fiction fans partly certain that it was Novak, and that it wasn't the outcome of a lapse back into a relationship, but that Kaling decided to have a child because it was time, and Novak provided the necessities to make it happen. However, Kaling has not said who the father of her baby is — and it's none of our business, so everyone relax!
Of course, now, with the two of them turning up together to the Oscars as official (or at least semi-official) dates started the speculation all over again.
And bringing up the questions if her daughter, Katherine Swati, is Novak's kid all over again.
But it also got Twitter talking about Kaling's newest project A Wrinkle In Time, which is directed by Ava DuVernay. Kaling stars alongside Reese Witherspoon and Oprah Winfrey in the upcoming movie. The film was one of the buzziest coming into 2018, an adaptation of a beloved children's novel with the potential to become a Harry Potter style franchise. Madeleine L'Engle, the author, wrote another four novels featuring Meg Murray as part of what is known as the Time Quintet, and another trilogy that followed based on the adventures of her daughter Polly, giving the series another seven books they could pull from.
But a mediocre word-of-mouth has caused Wrinkle to falter slightly as it reached the box office debut date. Kaling's PR ploy of pulling out Novak to gin up interest in both her and the film is a savvy ploy. At least Michael Scott would be impressed.