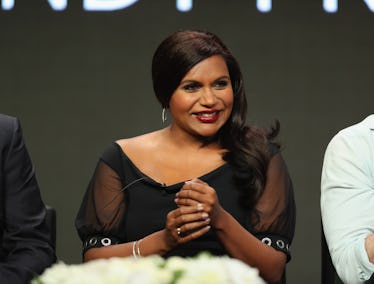 Mindy Kaling Hasn't Revealed Who The Father Of Her Baby Is & She Doesn't Need To
Joe Scarnici/Getty Images Entertainment/Getty Images
When Oprah accidentally broke the news this summer that Mindy Kaling was pregnant, the world rejoiced. Because if there's one eternal truth in the world, it's that we need. More. Mindy. But the world also got nosy as hell, asking who the father was, whether the pregnancy was planned, and more. And now that patron saint Katherine Kaling is among us in the world, I am here to say that the father of Kaling's baby is nobody's business.
Kaling's first child, Katherine Swati Kaling, entered the world and made it just a little bit brighter on Dec. 15, 2017. (The little Kaling is rocking a middle name that is an homage to Kaling's mother, who passed away in 2012.) And that is, thus far, all we know.
Page Six reported on Wednesday, Dec. 20 that Kaling decided to leave any information about the father off of her child's birth certificate, which has caused a bit of a dust-up. People are and have been dying to know who the father of Kaling's baby is ever since she — sorry, I mean, Oprah — announced her pregnancy. More specifically: people want to know if Kaling's long-time friend and fellow actor/comedian B.J. Novak is the father. I mean, there is an entire faction of people frothing at the mouth about the potential of a Kaling-Novak baby due to their friendship and the fact that they used to date.
But everybody has to sloooow down and remember that Kaling is a real person, and she doesn't owe us sh*t.
When rumors about her pregnancy first circulated in July, People reported that it was "an unexpected surprise." Then in October, a few months after confirming her pregnancy, she revealed on The Ellen Show that she was expecting a girl.
She has very carefully chosen what to reveal — and what to keep to herself.
While privacy in a social media-driven world is not only not the norm but is downright difficult to maintain, Kaling has miraculously kept a lot of the details of her pregnancy private. And it's no one's business who helped Kaling make a cute little cupcake.
Pregnancy inhabits a strange space: it is at once an intensely private experience and very public. The intimacy of pregnancy, oftentimes, is forgotten or even deliberately ignored. Privacy during pregnancy — or, frankly, motherhood — is a battle. There is, of course, a collective public obsession with fertility, which comes up in myriad ways: when people ask couples when they're going to have children, what their plans are, and, for single mothers, whether or not the pregnancy was planned. Nowhere is this inappropriate obsession more apparent than with visibly pregnant women.
Pregnant women have to deal with all manner of inappropriate touching, comments, and questions because too many people don't understand that pregnancy being noticeable in public doesn't make it a public object to be commented on and shared by all.
All of the prying questions ignore the reality that pregnant women are still women. They're still human. And humans deserve privacy and agency.
Demanding to know who fathered Kaling's baby has been compounded by the fact that she is a public figure. She is active on social media, including Twitter and Instagram, and has, in past interviews, been candid about her love life and her desire for a family.
For instance, she told Yahoo! Style in 2015, "I think I've decided that unlike everything else in my life, I'm going to be fast and loose about kids... I'm going to not actively plan, but if it happens, it would happen." She then said, "I'm not cavalier about who I would have a kid with. But the thing I ask every parent that I really admire, the one comment they all have is that they wish they had kids earlier."
She has already shared a fair amount with us: that she very much wants children and will let it happen when it happens. But she doesn't even owe us that much.
Her candid nature, of course, is wonderful and creates a bond between her and her fans. But it also creates the illusion that she and the fans who read about her are close personal friends. And some people, in turn, will take that to mean that they are owed information about her life, especially when it's so glaringly missing.
While Kaling is a public figure, that doesn't mean her whole life has to be public. She is, at the end of the day, human, and deserves the same privacy as everyone else. Above all else, she is a capable, success person who can more than handle a child on her own. And she gets to determine what she does and does not share with her fans.
I guess it's fun to speculate and pretend that life is a pithy romcom show, but we should remember that Kaling is a real person, not a television character.