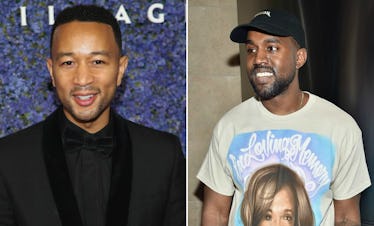 Here's What We Know About John Legend & Kanye West's Complicated Friendship
Phillip Faraone/Getty Images Entertainment/Getty Images | Dimitrios Kambouris/Getty Images Entertainment/Getty Images
Everyone knows that John Legend and Kanye West vehemently disagree on how they view President Trump. And while political differences can often forge a wedge in friendships, it's not exactly easy to tell what the deal is with Legend and West. So, are John Legend and Kanye West still friends? They are, indeed, still friends even if their political views go in opposite directions sometimes.
In fact, Legend recently opened up about his friendship with West in an interview with the Wall Street Journal. In his interview, he explained that their political differences often prompt deeper conversations between them. Those political differences, by the way, go way back to April 2018 when West publicized his text messages with Legend. In those texts, the two stars had exchanged some words about politics. According to Legend, that whole ordeal didn't damage the relationship. It simply opened it up in a new way. Legend explained to WSJ how West's support for Trump changed how they talk to each other.
"I understand what Kanye sees in Trump and I think it's a reaction to his personality and his marketing panache and don't-give-a-f**ness," Legend told WSJ. "But my point to him was that when you wear that hat, when you appear to be endorsing him, you're endorsing his policies as well, all of his rhetoric and not just the parts you like. I think we had to talk about it, because we didn't want people to be deceived into following his line of thought without considering the full ramifications."
That interview was published on Tuesday, Nov. 6. So, these are very recent comments from Legend, which points to a friendship with West that's still thriving even if difficult at times.
Legend's wife, Chrissy Teigen, also opened up about the friendship in an October 2018 interview with Vogue. Apparently, political discourse has given Legend and West a reason to learn. And if their friendship continues to be an educational one, then I guess you could say they're still going pretty strong. Anyway, here's what Teigen had to say about how Legend and West work out their political differences.
The thing with Kanye is that his opinions have always been super strong ... He's never been the guy to push them on you, but he will say what he wants to say. Same with John. That's why I loved that they were able to have this civil discourse. Kanye learned a lot in the months after that. John did, too.
Another sign that Legend and West's friendship is good is that their wives are able to joke about their woes. Back in April when West shared Legend's texts on Twitter, Teigen and West's wife, Kim Kardashian, had a bit of fun on social media about it.
So, these are all good signs for the friendship! And hey, at least everyone can have a little fun with it! I think if anything, the friendship between West and Legend will just get stronger as they learn to navigate their differences.