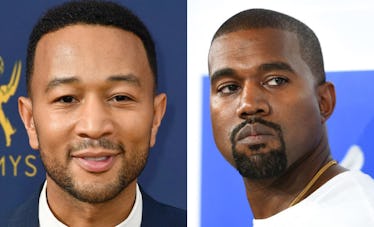 John Legend Just Revealed What He Told Kanye West About His Support Of Donald Trump
Frazer Harrison/Getty Images Entertainment/Getty Images | Larry Busacca/Getty Images Entertainment/Getty Images
Everybody knows that John Legend and Kanye West have vastly different views when it comes to politics. Even in spite of their differences, though, Legend and West still maintain a strong friendship and they both seem to value open communication. In a new interview with Wall Street Journal, Legend opened up about his friendship with West and how he decided to talk to the rapper about his controversial support of President Trump. John Legend's conversation with Kanye West about Trump was surprisingly honest and straightforward.
In his interview with WSJ, Legend talked at length about how he views West and how his perception differs from those outside the friendship. While many try to find a reason for West's outbursts and political views, Legend says he tries to navigate his relationship with West in as no-nonsense a way as possible.
"A lot of people have tried to armchair-diagnose him, but I leave it to him and his doctor to discuss what's going on in his brain," Legend explained. "Clearly I disagreed with some of the things he was saying, and I was worried that his saying it might empower some of the wrong forces, might be really demoralizing for people who looked up to him and thought of him as a leader."
Basically, Legend feels West has the intelligence and power to sway the people who follow him. It's just that West's political views happen to differ from his own. Legend talked at length about that, too, and even went as far as to say he understands why West likes Trump.
"I understand what Kanye sees in Trump and I think it's a reaction to his personality and his marketing panache and don't-give-a-f—ness," Legend said. "But my point to him was that when you wear that hat, when you appear to be endorsing him, you're endorsing his policies as well, all of his rhetoric and not just the parts you like. I think we had to talk about it, because we didn't want people to be deceived into following his line of thought without considering the full ramifications."
The political aspect of Legend's friendship with West goes as far back as April 2018 when West shared his private text messages with Legend on Twitter. In the texts, Legend urged West to reconsider supporting Donald Trump.
In an October 2018 interview with Vogue, Legend's wife Chrissy Teigen gave some insight into the friendship and how they handle political discourse.
"The thing with Kanye is that his opinions have always been super strong," Teigen told Vogue. "He's never been the guy to push them on you, but he will say what he wants to say. Same with John. That's why I loved that they were able to have this civil discourse. Kanye learned a lot in the months after that. John did, too."
So, it sounds like Legend and West learn a lot from each other and from their respective views on politics. As for whether Legend would ever run for office, he told WSJ that he's not up for it right now.
"People ask me if I want to run for office, but I don't. Maybe when I'm 60 — who knows what the world is going to be then? — but I love my life now and what I get to do," he said.
Well, I guess the world will have to wait until he's 60 then!