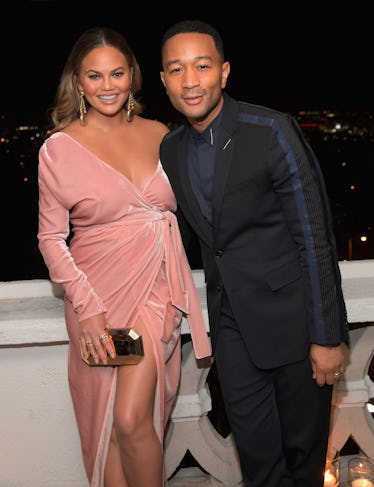 John Legend & Chrissy Teigen's Reason For Skipping The Golden Globes Is Just So Relatable
Charley Gallay/Getty Images Entertainment/Getty Images
Awards show season is upon us, and woohoo! Settle in with your popcorn and glass of wine to finally watch the Golden Globes, and start enjoying the delightful celebrity appearances, the suspense of the awards themselves, and the celebrity appearances… did I mention the celebrities? They're my favorite part. And some of them can really make or break an event — so, are John Legend and Chrissy Teigen at the Golden Globes?
Well, sucks to be us, because the answer is, apparently, no. Only a few hours before the red carpet took off on Jan. 7, Teigen tweeted out that there would be "no globes for us this year. It's taco day," so, sigh. It looks like the red carpet is not to be graced with the fabulousness that is the Teigen-Legend household. And no, it's probably not a joke. As fans know, Teigen takes her tacos very seriously.
Honestly, even before the show, it was kind of questionable whether they'd make it. The two have had some eventful times of late, not least of which is the recent announcement that Teigen is pregnant with the couple's second child (congrats, you crazy kids)! On Nov. 21, the couple announced that they had their second bun in the oven via the world's cutest Instagram post. In a video, Teigen asked the pair's 1-year-old daughter, Luna, what's in her belly. She asked, "Luna, what's in here?" and Luna responded, "Baby!" Um, that's adorable.
Teigen is supposedly due sometime in late March or early April, which means that she's likely coming up on six or even seven months — a point at which I would be bailing on pretty much every social obligation I could. Add to that the fact that Legend wasn't actually nominated for anything this year (sorry, John) and I can't blame them for saying, "eh, let's just make tacos." I mean, tacos are delicious.
But before the night started, I definitely had my fingers crossed that they would make it. Because honestly, they are legit hilarious when it comes to awards shows.
At last year's Golden Globes on Jan 8., 2017, the two made headlines for being basically the chillest couple in existence on the red carpet. With Legend looking dapper as ever in a tux and Teigen seriously sparkling in an embroidered metallic gown that is, like, all of my 8-year-old dress-up fantasies, they just showed up and hung out — literally, as the pair took a seat on the red carpet. And there they stayed as other celebrities awkwardly maneuvered around them, because, you know, they were sitting in the middle of the red carpet. The two even took interviews from their perch on the steps.
Anyone who's ever been trapped wearing heels at an event where there was nowhere to sit was cheering, and cheering loud. Am I the only one thinking, #goals, here?
And that's not the Teigen-Legend family's only claim to fame at the Golden Globes. Lest you've already forgotten, it was the 2015 ceremony that gave us the meme shared 'round the world, the one you've probably already texted your friends twice tonight as you passed judgement on the red carpet outfits. Yes, I'm talking about the gift that is the Chrissy Teigen's reaction face meme. What a thing of joy.
Ironically, apparently that's her happy cry face(?). That was the expression the cameras caught when hubby Legend won Best Original Song for his collaboration with Common on "Glory," on the Selma soundtrack. You, uh, look really happy, Chrissy. Really.
Well, here's to another year of ridiculous memes and red carpet trolling. Maybe next year. We'll miss you tonight, though.