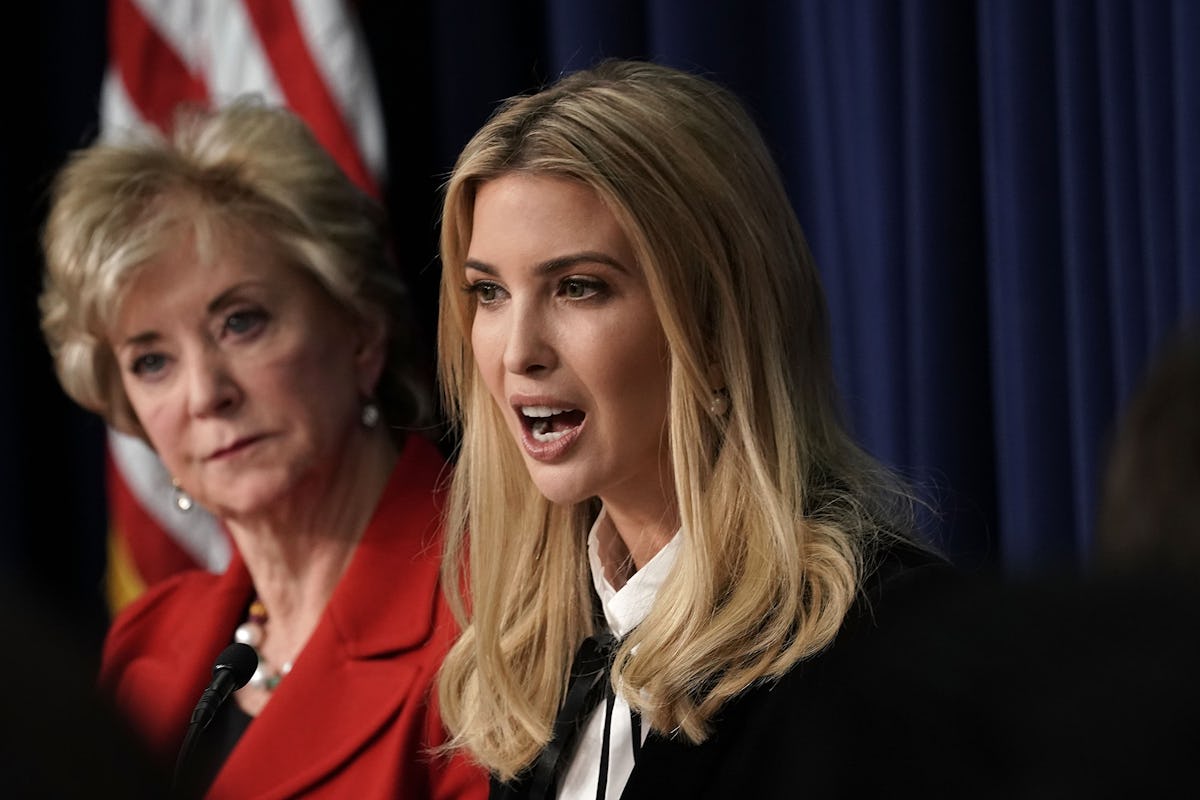 Activists Are Calling For An Ethics Investigation On Ivanka Trump's Clothing
Alex Wong/Getty Images News/Getty Images
President Donald Trump's daughter Ivanka is back in the hot seat again, and this time, the stakes have been upped. After a report last month that found that Trump, as a presidential adviser, often conducts official business wearing her own brand, the question began popping up: Are Ivanka Trump's clothes in violation of ethics standards? On Monday, Jan. 22, an advocacy group sent a letter to the government demanding an investigation to ensure that the first daughter and her namesake fashion line aren't crossing lines.
Democracy Forward, a watchdog group that scrutinizes the executive branch, submitted a letter to David J. Apol, Acting Director of the Office of Government Ethics (OGE). The letter, obtained by Elite Daily, outlines several specific requests to the OGE to investigate Trump and her business while serving a formal role in office. Elite Daily reached out to the White House and Ivanka Trump's brand for comment and did not receive a response at the time of publication.
"Ivanka Trump appears to be breaking ethics rules by using her official status to source advertisements that line her pockets," claimed Anne Hakavy, the executive director of Democracy Forward, in a statement obtained by Elite Daily. "Her official duties are supposed to benefit American taxpayers, and she should not exploit this position for personal financial gain."
The letter comes on the heels of a report in The Wall Street Journal in December that found that, since beginning her official role as a White House adviser, Trump had worn her own brand in 68 percent of photos of her on social media. In the six months between March 29 and October in which the photos were posted, some publications, as the Journal points out, used the posts to create affiliate links to her products, whereby readers could click and be directed to buy the same product Trump was pictured wearing. As CNN's New Day pointed out on Jan. 2, after Trump wore her brand's cold shoulder sweater dress at a NASA event on Dec. 11, the same dress then sold out on the Macy's website.
In an emailed statement regarding the report, Trump told the Journal in December, "If what motivated me was to grow my businesses and make money, I would have stayed in New York and done just that." Per Fortune, Trump is not actively overseeing the day-to-day operations of the fashion line; it's currently in a trust being headed by relatives of her husband, Jared Kushner.
Democracy Forward cites the OGE regulation on conflicts of interest stating, "An employee shall not use his public office for his own private gain, for the endorsement of any product, service or enterprise, or for the private gain of .... persons with whom the employee is affiliated in a nongovernmental capacity, including ... persons with whom the employee has or seeks ... business relations." Additionally, executive branch employees are barred from making endorsements that may benefit them or their associates.
In the letter, Democracy Forward requests that, "given Ms. Trump's ongoing failure to ensure her duties as a federal employee," OGE recommends Trump fully divests from her company. In addition, it is calling for OGE to conduct an investigation into whether Trump or her affiliates have coordinated with publications that use her social media posts to link to products for sale.
Democracy Forward says in its letter that Trump's retail expertise suggests that she should be well aware of the possible impact of wearing her own clothing in social media posts — especially given her massive popularity on platforms — on her business. This, the group claims, "raises the prospect" that Trump or her stand-ins are "actively coordinating with IT Collection or third party celebrity style publications to market and sell her products."
Democracy Forward is not the first to call foul on Trump's habit of wearing her own brand. On the same New Day segment, former OGE director Walter Shaub called it the "international definition of corruption."
"The reality is that the core principle of the ethics program is that you're not supposed to misuse your government position for private gain," Shaub said. "This is the principle that George H.W. Bush founded as the cornerstone of the ethics program."
The year between July 2017 and July 2017 was record-setting for Trump's business. In those 12 months, Fortune reports, Trump's trust brought in $12.6 million, about half of which was revenue from her clothing line.