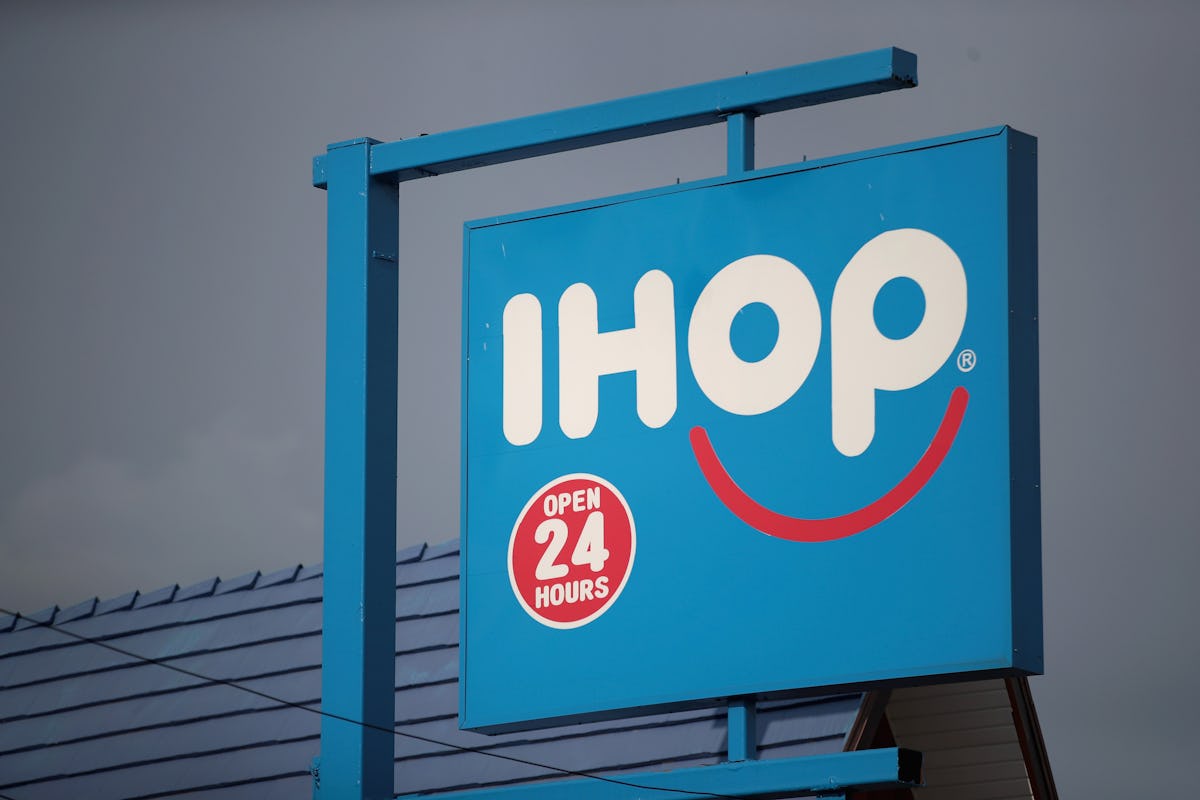 Say What You Want About IHOP's Name Change, Because Apparently It's Been Working
Scott Olson/Getty Images News/Getty Images
IHOP nearly broke the internet when it changed its name to "IHOb" in June 2018. I, for one, was a little upset. How dare my favorite pancake company turn the tables on me? I wasn't ready for the "P" to become a "b," and I'm sure tons of breakfast enthusiasts felt the same way. But now that IHOP's name is back to normal, confused customers can take a collective sigh of relief. Still, this entire debacle left me asking one important question: Are IHOP's Ultimate Steakburgers good? Apparently, they are — and people can't get enough of them.
That's right: It looks like IHOb naysayers (including myself) have been punk'd. Even though the company's name caused a social media meltdown, it made customers want to try the company's new Ultimate Steakburgers. According to Extra Crispy, the company's burger sales reportedly quadrupled when its name changed from IHOP to IHOb. In other words, the company's mission was accomplished.
According to an IHOP press release from June 11, the entire point of temporarily changing its name was to persuade pancake lovers to try the new burgers. Brad Haley, Chief Marketing Officer for IHOb restaurants, talked about the marketing tactic. He said,
Everyone knows that IHOP makes world-famous pancakes so we felt like the best way to convince them that we are as serious about our new line of Ultimate Steakburgers as we are about our pancakes, was to change our name to IHOb.
Well, it worked. Bravo, IHOP. Bravo.
I'm sure IHOP's name change wasn't the only thing that made customers want to try its new burgers. Why? Because the Ultimate Steakburgers sound freaking delicious, and I'd probably try them with or without a name change. The savory burger lineup includes the following options: Big Brunch, Cowboy BBQ, Jalapeño Kick, Mushroom & Swiss, The Classic, The Classic with Bacon, and the Mega Monster. Each burger is made with 100 percent USDA Choice, Black Angus ground beef — so you know you're getting a quality meal when you order one.
Is your mouth watering yet?
Between IHOP's name change and the Ultimate Steakburgers themselves, I'm not surprised that burger sales reportedly quadrupled when "IHOb" became a thing. That's not the only shocking news about the marketing ploy, though.
Apparently, the number of stories that were written about "IHOb" during the controversial name change was extraordinarily high. According to Extra Crispy, data by YouGov BrandIndex suggests that 20,000 articles were written about IHOP's name change when it announced. The data also reportedly says that 36 billion impressions were made on social media when "IHOb" became a temporary household name.
I can confidently state that I contributed to those reported articles and social media impressions. You're welcome, IHOP.
It's safe to say that IHOP definitely achieved its goal when it came to bringing attention to its new Ultimate Steakburgers. If you're a diehard pancake fan who hasn't tried a burger yet, head to your local restaurant and order up. Based off the fact that so many burgers have reportedly been sold within the past few months, I doubt you'll be disappointed.