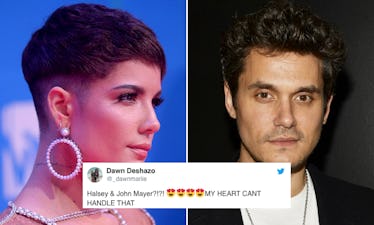 Halsey & John Mayer Just Got Super Flirty On Instagram, So G-Eazy Who?
Dave J Hogan & Matt Winkelmeyer/Getty Images Entertainment/Getty Images
Hold the phone. I have a real question. Are Halsey and John Mayer dating? I know that sounds wild, but the two celebs are getting extra flirty on Instagram and now I'm wondering if I totally dreamed Halsey and G-Eazy's relationship. Nothing is confirmed, and it's totally possible I'm blowing this out of proportion, but I completely missed Halsey and Mayer were even friends at all! Now, they're popping up in each other's comments and it has me and a few other fans raising our hands. Elite Daily reached out to both Halsey and Mayer's team for comment on the speculation but did not hear back by the time of publication.
Halsey is only recently single after ending things with her ex-boyfriend G-Easy. They were on-again, off-again for months after first breaking up in July 2018. Back then, Halsey made a statement on Instagram writing, "G-Eazy and I are taking some time apart. I'm eager to continue the upcoming passage of time dedicating myself to my art and my career, and the duration of my tour. I wish him the best. Thanks for respecting our privacy at this time."
That initial break didn't last very long, and soon enough they were back together showing PDA on Instagram. However, by the end of October, People reported they were officially over. For real this time.
Now, fans are noticing Mayer popping up on Halsey's feed quite a bit. She recently shared a YSL Beauty ad on Instagram displaying a closeup of her lips. If you scroll, you'll notice Mayer is there in her comments with the joke, "It's saying that my billing address doesn't match with the one of my credit card? I've never had this problem before. Can you text me? Thanks."
Without missing a beat, Halsey joked back, "@johnmayer wrote u a song with the help hotline # in the chorus. Sending mp3 now."
Well, I'm having fun. Aren't you?
Not long before the YSL post, Hasley shared a picture of herself on stage, presumably during a chilly performance. She captioned that photo, "38° F." For seemingly no reason other than to make Halsey laugh, Mayer commented, "That's 276.483 kelvins for you thermal nuts." Halsey joked back, "Jesus, John."
Don't worry. The plot keeps thickening.
On Oct. 16, just a week or so before G-Eazy and Halsey broke up for good, she shared a screenshot of text messages she sent Mayer for his birthday. Her caption explained, "It's @johnmayer's birthday. Not to be confused with 2 weeks ago where I drunkenly thought it was John Mayer's birthday. Here's your recycled message. Love ya to pieces brain twin. 🎉"
First, brain twin? They've got a serious connection, huh?
Also... what's up with the wave emoji's next to Mayer's name in her phone contacts? Why did she add the wave emoji to her birthday message? What does the wave signify, guys? I gotta know!
Also, please take note of the heart Mayer left on her first message.
Obviously, fans have perked up.
I know a little social media interaction does not necessarily make a relationship, but it isn't nothing. Especially when you consider both parties know their fans (like moi) are out here analyzing their every move.
I see you guys. We out here.