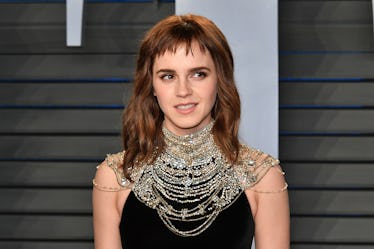 Emma Watson Was Spotted Canoodling With A Hunky Tech CEO & Accio Your New Crush
Dia Dipasupil/Getty Images Entertainment/Getty Images
Confession: I'm not a huge Harry Potter fan. I know, I know, I know. It's a borderline treasonous thing to say but I don't know what to tell you! Wizards scare me. That being said, I always tried to make myself at least like the movies. Why the movies, you ask? One reason and one reason only: Emma Watson. I thought — and still think — she's so cool that I literally forced myself to watch the movies in sheer terror. And now my childhood celeb idol is grown up and dating a hot tech CEO. But are Emma Watson and Brendan Wallace dating seriously?
Well, we have no intel on whether or not they're serious (yet), but there are reports that there's definitely something going on between the pair. Shortly after her reported breakup with Glee star Chord Overstreet, Watson went on a vacation to Mexico where she was reportedly photographed kissing Wallace.
Upon first hearing the news, it may seem random that Watson, one of the most famous actresses, would date the CEO of a tech company. But it's really not. In fact, Watson has a pretty strong track record of being into tech bros. Before her kiss with Wallace and even before her rumored relationship with Overstreet, W reports that Watson was in a relationship with tech manager William Knight for two years.
It was The Daily Mail that first identified Watson's mystery man as Brendan Wallace, an Ivy League-educated tech tycoon who largely focuses on apps. In addition to being a co-founder and managing partner of tech giant Fifth Wall, his bio on its site page reveals that he is also the co-founder of the most popular ride share service in Latin America called Cabify and the co-founder of a company called Identify that was purchased by Workday back in 2014. If he still doesn't sound successful enough for you, don't worry. There's more. Wallace is also an angel investor who has invested in companies like Lyft, Bonobos, and Zenefits. As if that all wasn't dreamy enough, he also just so happens to be super hot. No, seriously, check out his picture on his Fifth Wall bio page and see for yourself. He's a stud.
Oh, he also went to Princeton for undergrad and Stanford for his MBA, which actually might give him something in common with Watson. You see, she received her undergraduate at Brown, so the two can compare and contrast their different Ivy League experiences.
I obviously would love to hear every little detail of their romance straight from Watson but, unfortunately, that probably won't be happening for me any time soon. Unlike some other celebrities who tend to be more open about their romantic happenings, Watson keeps things pretty quiet.
"I've noticed, in Hollywood, who you're dating gets tied up into your film promotion and becomes part of the performance and the circus," she told Vanity Fair in one of her last interviews with a major publication. "I would hate anyone that I were with to feel like they were in any way part of a show or an act." She continued by explaining that her refusal to talk about her love life ties into her desire to keep the paparazzi away from her, "I can't talk about my boyfriend in an interview and then expect people not to take paparazzi pictures of me walking around outside my home. You can't have it both ways."
In another interview she explained that her decision to keep her private life... well, private, is also part of an effort to maintain the authenticity of her on-screen characters. "The story of my life has been of public interest, which is why I've been so passionate about having a private identity," she told Jessica Chastain in Interview. "When I step into a character, people have to be able to suspend their disbelief; they have to be able to divorce me from that girl. And not having everyone know every single intimate detail of my entire life is part of me trying to protect my ability to do my job well."
OK, so we probably won't be hearing anything from Watson anytime soon. But, hey, if she's happy, I'm happy!
Check out the "Best of Elite Daily" stream in the Bustle App for more stories just like this!