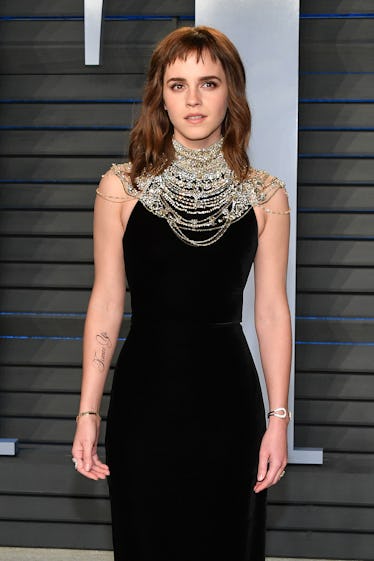 Emma Watson Is Reportedly Dating This Actor & OMG, It's Getting Hot In Here
Dia Dipasupil/Getty Images Entertainment/Getty Images
Emma Watson is one of my all-time favorite celebrities. She's consistently out of the public eye, she's smart as hell, and her acting chops are like no other. But it's because of the fact Watson is so low-key that we hardly ever hear about her personal life (which is probably the way she likes to keep it, and I can't blame her). We also never really know who she's dating — or if she's dating at all. Which begs the question: Is Emma Watson single? Sorry, folks, but it looks like she might actually be off the market. And spoiler alert: Her reported new man is a total smoke show.
So, who is this guy anyway? Who can measure up to the all-knowing, all-powerful Emma Watson? Well, his name is Chord Overstreet, and you may have actually seen him before, playing the role of Sam Evans on the Fox television series Glee.
According to Page Six, a source confirmed that Emma Watson and Chord Overstreet are dating:
It's crazy but, yes, they are seeing each other, although Emma wants to keep things quiet and private.
But then again, another source told Page Six that the two were just "friendly" but "are not in a relationship."
Hm.
In case you're wondering what this "friend" looks like, here ya go:
Is it hot in here? It feels hot in here.
The reason why I sort of believe that they are more than friends is because the two were seen walking out (somewhat) together while leaving the Vanity Fair Oscars party. Watson walked out first, and Overstreet followed behind her. It might not seem like a big deal, until you realize that Watson seems to be wearing a men's suit jacket... and Overstreet doesn't have his.
Friends, you say?
Methinks there's more to this story, but we probably will be kept far away from the truth because of how private Watson is, especially when it comes to her love life.
Before she broke things off with her boyfriend of two years back in 2017, William "Mack" Knight, Watson spoke with Vanity Fair and revealed why she keeps her romantic interests so under-wraps:
I want to be consistent: I can't talk about my boyfriend in an interview and then expect people not to take paparazzi pictures of me walking around outside my home. You can't have it both ways.
She also added that one of the many reasons she doesn't talk about the people she dates is because she doesn't want them to feel that she's dating solely for publicity:
I've noticed, in Hollywood, who you're dating gets tied up into your film promotion and becomes part of the performance and the circus. I would hate anyone that I were with to feel like they were in any way part of a show or an act.
Emma, how are you so wise?
Must be all those spells you learned at Hogwarts.
So, will we ever know if she left the Oscars party with Chord Overstreet? Probably not, TBH, which is a bit of a bummer. But hey, at least we'll always have photos of Emma Watson looking freaking fabulous at the Oscars, debuting a badass Time's Up temporary tattoo (even if the tiny tat was missing an apostrophe).
I mean, look at her:
And look at that tat!
Slaying it, missing apostrophe be damed.
In true Emma Watson form, she joked on Twitter about the grammatical error, tweeting, "Fake tattoo proofreading position available. Experience with apostrophes a must":
This is the exact reason why Emma Watson is my hero. And my spirit animal. And, OK, my girl crush.
Pretty much I love Emma Watson and all that she stands for, and if she wants to secretly date a very handsome actor, I'm cool with it, and you should be, too.
Let's all just let a girl live, shall we?