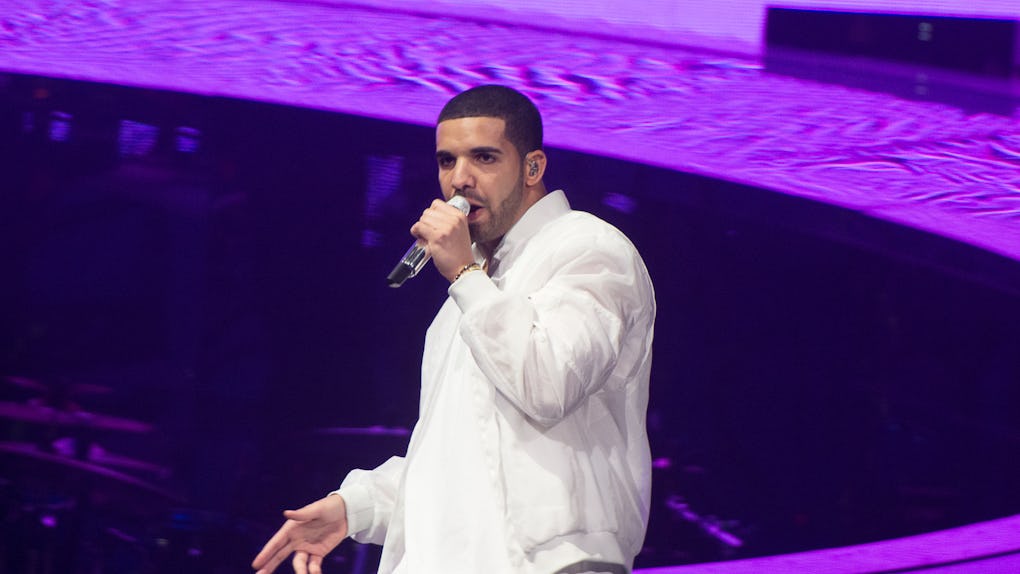 Dave Kotinsky/Getty Images Entertainment/Getty Images
Are Drake & Kiki Dating? Here's What's Going On With The Girl Who Inspired "In My Feelings"
Well, there goes 10 hours of my life I'll never get back. I'm usually head of the fad-dance game but was late to the party with the viral "In My Feelings" challenge. I was asking a lot of questions. Who is Kiki? Are Drake and Kiki dating? Why are these people jumping out of their cars? Who invented the choreography? One work day and a billion "In My Feelings" challenge fail videos later, I have some answers. First, no. Drake and Kiki are not dating. In fact, we aren't even sure who Kiki is. As per usual, Drake is a single, bleeding heart hoping to rap his way to finding the girl of his dreams. Second, Instagram comedian @TheShiggyShow originated the now famous dance sequence. Still no idea why people are jumping out of moving cars.
If you're behind like I was when I woke up this morning, let me bring you up to speed. Drake wrote a song called "In My Feelings" which includes the lyrics, "Kiki, do you love me? Are you riding? Say you'll never ever leave from beside me 'cause I want ya, and I need ya. And I'm down for you always."
Shiggy videotaped himself grooving to the beat in the street and the easy-to-follow dance moves quickly caught on. Since then, the song has blown up on social media causing many Drake fans to question the identity of the woman who inspired the song. Basically, we've narrowed it down to two possibilities, but the fact remains Drake isn't seriously dating anyone. He's just looking for love like the rest of us.
Womp, womp.
Fans originally thought Kiki must be his old flame and former 106 & Park host, Keshia Chante. According to Metro, Chante and Drake were childhood friends and have had open on-again, off-again banter about their history together. In fact, you can kind of see them flirt in this old clip below.
Chante seemingly added fuel to the fire when she tweeted:
Oh sh*t.
Just when everyone was ready to celebrate the end of the mystery, the record scratched and a new name was tossed into the ring.
A woman named K'yanna Barber reportedly dated Drake back in October of 2017 according to gossip outlets and is also a strong Kiki suspect. That's because, in the song, Drake eventually swaps the chorus lyrics from "Kiki, do you love me?" to "KB, do you love me?"
K'yanna Barber... KB... Are you guys picking up what I'm putting down? Elite Daily reached out to Drake's team for comment on his relationship history with Barber but did not hear back by the time of publication.
Barber also jumped on the Twitter hype-wagon and tweeted a few things linking her to Drake. Very specifically, she wrote, "KB DO U LUV ME?" and "my name Kiki b*tch."
I mean... if you say so, girl.
While we're at it, I'd also like to volunteer as tribute to be Kiki. It's me, guys. I know Drake personally. He loves me, and I'll never ever leave from beside him. Cause he wants me... and he needs me... and you get it.