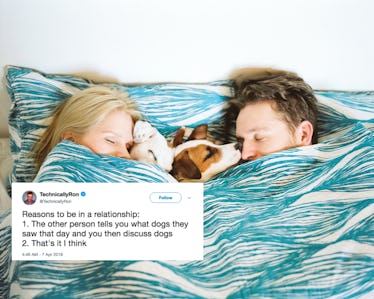 Twitter Thinks Dogs Are The Secret To A Perfect Relationship & Twitter Is Def Right
There are plenty of keys to a good relationship. The two of you have to be able to be open and honest about how you're feeling. And then, when your partner is open and honest, you have to be understanding and sympathetic. You have to be able to keep a promise. You have to share things in common. You have to be loyal. You have to truly love each other. You have to have both sexual and emotional chemistry. You have to make each other feel safe and comfortable. You've heard all of that. But... are dogs good for relationships?
Well, according to Twitter, the answer to that question is yes. People all over the Twitter community have recently chimed in on their beliefs that a shared love of dogs can actually thoroughly enhance a romantic relationship. Now, I'm no professional, but I don't really doubt the theory. I mean, if you're a dog lover reading this article, just take a second to sit back and think about just how much you really love your dog and literally every other dog that ever crosses your path. THEN, think about how freaking wonderful it would be if you found someone who shared your love for dogs. Someone to DM back and forth any cute dog pictures that come up on your respective Insta feeds and to take along for strolls at the park that are peppered with frequent stops to pet random strangers' adorable puppies.
I know what you're thinking: But my best friend/mom/sister/grandma/dad/aunt/brother already does this for me. Yes, that may be true. Your platonic best friend or your mom or your dad or your sibling or your work wife could currently be filling the spot of that person who shares a passion for dogs with you... but just IMAGINE how wonderful it would be to meet someone you were physically attracted to, whom you could also spend 23 of the 24 hours in the day sending cute dog pictures back and forth with? If that doesn't say relationship goals, I don't know what does.
Now, finally, people have taken to Twitter to talk about exactly how pivotal a shared love of dogs is to having a happy, healthy, and downright wonderful relationship.