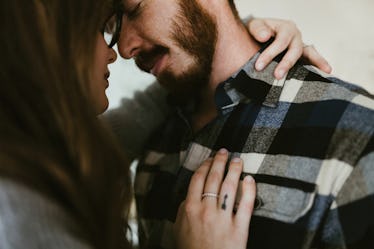 11 Men Reveal The Most Romantic Thing That's Ever Happened To Them & OMG, So Cute
When you picture the concept of romance, there are probably a handful of stereotypical things that immediately spring to mind. Rose petals, candles, long walks on an imaginary beach just as the sun dips below the horizon — you know, the usual. The one thing these romantic ideas have in common is that they're typically geared toward making a woman feel special and cared for, and that's great! But here's the thing: Dudes appreciate sweet, loving gestures, too. A recent Reddit thread asked Redditors to describe the most romantic things that have happened to men, and the guys came through.
Sure, there were a lot of blow job stories (spoiler alert: guys really, really like oral), but between the tales of surprise BJs were some of the sweetest and most relatable romantic moments ever, not to mention a couple of love stories so epic you'd think they came directly from a movie. So, if you've ever doubted that guys appreciate romantic gestures just as much as we do, prepare to have your mind changed. And who knows? Maybe you can even take some inspiration and do something sweet for the dude in your life.
Here are some of our favorites from the thread. Read on and just try not to melt.