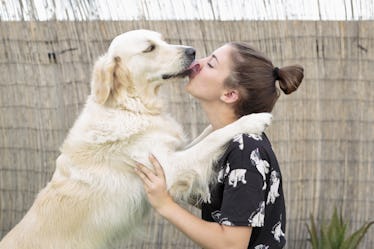 12 Sweet Things To Do With Your Furry Friend On National Love Your Pet Day
Dog mom, pet sitter, or shelter volunteer — no matter what your interaction is with a beloved animal, loving them is undoubtedly in the cards every single time. Your dog deserves to know every single day that their furry face makes the world go round, and that their wet kisses are the best thing ever, even if your day was the absolute worst. National Love Your Pet Day has claimed Feb. 20 this year, and animal lovers are so here for it. It might not be your pup's birthday, but it's a time to be all about them and find fun things to do on National Love Your Pet Day, because they deserve it.
Your dog would be happy with absolutely any activity that involves you and them. They really just love you that much, and the feeling is oh-so-mutual. Their wagging tail is so simple, but always seems to bring the biggest smile to your face — because if they're happy, you're happy. Act alone or get the rest of the neighboring pups involved, but doing something different and special is in order for a day proclaimed for their loyal AF existence. You may already do a few of these things already, but today, love for your dog is incredibly in the air.