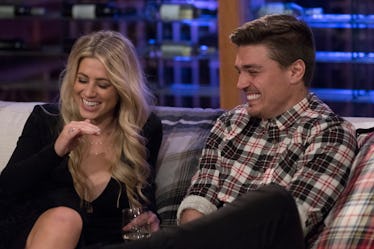 Bachelor Nation Really Hopes This Fan-Favorite Couple Gets Engaged After 'Winter Games'
ABC
Bachelor Winter Games wedding bells are apparently ringing and fans are in a speculating frenzy trying to figure out which couple from the show will walk down the aisle. ABC is teasing a proposal that resulted from the reality competition meet-cute, so are Dean & Lesley engaged after Bachelor Winter Games? Kissing contest aside, the adorable duo appear to be one of the most solid pairs on the show.
Update: At the World Tells All special after the finale, Dean and Lesley confirmed that they are still together. They are not engaged, and Dean gave Lesley a key to his house.
Earlier: Here's what we know for sure: someone from the series put a ring on it, because a recent Bachelor Winter Games tweet made sure to inform viewers of an upcoming engagement. And now, a blink-and-you'll-miss-it promo for Thursday's grand finale is hinting at a jaw-dropping proposal (seriously, look at Ashley I's surprised face). "The Bachelor Winter Games finale is the steamiest, most drama-filled, unexpected ending in Bachelor history," the voiceover declares with confident gusto. Haven't we heard that one before? Whatever, because there's a shot of Dean getting down on one knee. One knee, people. Maybe he's tying his shoe or stretching out his quads, but it sure looks like he's about to ask Lesley for her hand in marriage. Or, at least that's what the Bachelor producers want us to think...
Lesley and Dean both have great senses of humor and their relationship appears to have a playful side — did you see their goofy dance routine at the kissing contest? If you look closely at the brief clip above, it look like they're laughing throughout this potentially life-altering moment. Sure — it's entirely possible that they could be trolling the audience in some sort of sketch and another couple will swoop in and shock everyone with their nuptial announcement. But exhibit B (as in Bachelor Evidence) also has viewers intrigued. Lesley and Dean teamed up for a promotional tweet on Wednesday for the World Tells All special, which airs following the Winter Games finale. "Tune into ABC to find out if we're still together or not," Dean advised coyly. I don't think anybody who's been attention thinks this couple has broken up since the Games, but that doesn't mean they won't be tuning in.
Dean and Lesley haven't exactly been shy about their possible post-Games relationship. The couple have been making the press rounds and even participated in a video for Entertainment Tonight where they talked about what they loved about one another and even held hands at one point. I didn't watch Paradise and I didn't watch Rachel's season because I'm all over the world all the time. "I didn't know much about Dean. I saw his cute little face and his big blue eyes and it kind of went from there," Lesley said of Dean. Dean gushed, "She's strong, and that's first and foremost what attracted me to her. Of course she's beautiful, and if you want to talk about someone who's kind to everyone, it's her. It's kind of annoying when we go places and she literally makes friends with every single person we meet."
Lesley took to Instagram to this week to endorse the Winter Games finale extravaganza, writing, "99% of my trust issues come from @chrisbharrison saying "this is will be the most dramatic season"... every season. I 100% back him up this time." Hmm.
Perhaps she's referring to a "dramatic" event that pertains to her personally. Of course, there are other couples who could have a televised fairytale ending. Benoit may have left Vermont in tears, but speculation is swirling about the likelihood of a bombshell engagement to Clare. Another prospective twosome that could tie the knot: Ashley and Canadian Kevin. The Bachelor Winter Games season finale airs Feb. 22 on ABC and will be immediately followed by the World Tells All reunion special. Should Bach Nation get ready to pop the champagne?