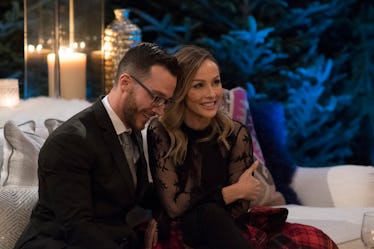 Fans Are Convinced This 'Bachelor Winter Games' Couple Gets Engaged & We're So Confused – UPDATE
ABC
Things that confuse me: advanced calculus, the end of Interstellar, and what is going on with Clare on Bachelor Winter Games. The 36-year-old alum from Juan Pablo's season of The Bachelor has had a seesaw of a season throughout the show's first three episodes. First she connected with Christian, then she flirted with Benoit, and then Benoit fell for her and left in an emotional breakdown when she couldn't reciprocate that lovin' feeling. Now Twitter is convinced that they've reunited. Do Clare and Benoit get engaged after Winter Games? Bachelor Nation is buzzing about their relationship status.
UPDATE: On Thursday, Feb. 22, the 'Bachelor Winter Games' tell-all episode 'World Tells All' aired, and Benoit proposed to Clare. She said yes.
EARLIER: Remember last week when Benoit was all "she didn't felt it" regarding Clare not being that into him? The cute Canadian wore his sensitive heart on his sweater and decided to exit the show prematurely because nobody in the house held a candle to Clare in his eyes. Sure, they only kissed twice or something and had one friendly non-date that involved casually making dinner, but Benoit knew something was there. Unfortunately, Clare couldn't say the same. Not yet, at least. "There will always be a little place in my chest for you," Benoit told Clare before he left Vermont. Now it's being reported that despite their tearful televised goodbyes, Clare and Benoit could be getting married. Huh?!
According Bachelor Winter Games' Twitter, the show did create a love connection that resulted in a proposal.
As expected, sleuthing fans put on their detective hats to figure out just whose hand was rocking that rock.
Neither Clare or Benoit have confirmed they are back on, but Clare did take to Instagram to share her thoughts on the Winter Games experience. "We shared an experience like no other, that NOBODY would understand unless you were there. Yes you all get to see a GLIMPSE of it all, but nothing compared to the long hours and sleepless nights that we spent gaming, laughing and living our lives to the fullest together!" the Cali hairstylist wrote.
Benoit also had some public words after his Bachelor Winter Games departure, shouting out Clare, specifically. "Im so glad i met so many good friends from cast to the crew... but more especially, a wonderful woman in @clarecrawley . You know that there is a lot of editing and there are a lot of talks that you guys missed. I have so much respect for her and that is why I left the show thinking that she deserves the best because she is the best." No hard feelings, we guess? You don't say...
Let's get back to Clare's Winter Games journey thus far. For the love of Chris Harrison, what just happened?! Clare was initially in a love triangle with Benoit and German Christian. In what we call The Jacuzzi Incident of '18, Christian and her made plans to meet in the hot tub in the second episode, and when Clare was an accidental no-show, Christian and her got into a heated argument that ended in tears and the audience's understanding that she wasn't about to put up with any of his actions from then on. Twist alert! When Christian offered her a rose, she said with a grin: "Absolutely." OK... Cut to episode 3 and the "couple" finally ended up in the jacuzzi, but nobody made a move. This all resulted in what came off as back-and-forth standstill of two people not moving forward and getting feelings (or lack their of) lost in translation. At the kissing contest the two of them realized that this was going nowhere and they both decided to call it quits. We still don't understand what what was fully going inside both of them, but none of it makes sense at this point and it's clear that these star crossed non-lovers weren't meant to be.
Clare has sure been through the ringer (there we go with the wedding references again) on this wintery reality TV journey, but maybe it was all worth in the end. We'll surely be watching to see if she and Benoit reunify in some sort of engagement announcement extravaganza.