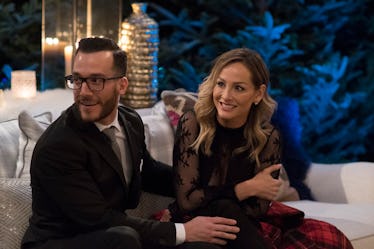 Here's Everything We Know About Benoit's Love Life After 'Bachelor Winter Games' – UPDATE
Somehow, after only two episodes of Bachelor Winter Games, Benoit and Clare's relationship has become the love story I never knew I needed. Bespectacled French-Canadian Benoit Beauséjour-Savard connected with Bachelor Season 18 runner-up Clare Crawley early in the competition, but they shared a heartbreaking goodbye when Clare didn't feel the same intensity as Benoit did in their relationship. However, with an upcoming Bachelor Winter Games engagement now confirmed, I'm curious about these two's post-show status. Are Clare and Benoit dating right now?
UPDATE: On Thursday, Feb. 22, the 'Bachelor Winter Games' tell-all episode 'World Tells All' aired, and Benoit proposed to Clare. She said yes.
EARLIER: Hairstylist Clare has steered clear of any mentions of her onscreen romantic drama on her social media. Part of the reason why Benoit chose to leave the competition was thanks to her also fooling around with German contestant Christian, who is handsome but reeks of being the European Juan Pablo Galavis. Episode 2 of Winter Games ended with Clare still accepting Christian's rose despite arguing with him earlier over their miscommunication about having a date in the Jacuzzi. Yeah, this guy is a charmer.
While her online silence about her relationships could just tie back to the fact that Clare comes from a simpler era of Bachelor Nation that didn't overshare, keeping quiet could also mean that she's dating Benoit. Seeing as Benoit left the Vermont house, even her hinting at their ongoing relationship would spoil what's to come on the show. Does Benoit come back? Does Clare leave the house to find him? Spilling the truth à la Dean and Lesley ruins fans' anticipation and likely a major plotline of the show.
Speaking to Entertainment Tonight before the show's premiere, Clare even pointed out that she's naturally a private person, so unless her dating life is directly questioned on the upcoming "World Tells All" special, she's probably not the type to tell all.
I'm a very private person, so I think in the public eye, it appears I've just been doing no dating [these last few years off-camera], but as a matter of fact, I've had some pretty serious relationships … but I'm not one to settle.
As for restaurant maître d' Benoit, he referenced Clare in an Instagram post addressing his decision to leave the show.
I'm so glad I met so many good friends from cast to the crew... but more especially, a wonderful woman in [Clare Crawley]. You know that there is a lot of editing and there are a lot of talks that you guys missed. I have so much respect for her and that is why I left the show thinking that she deserves the best because she is the best.
No matter where their current relationship stands, it's clear from that message that Benoit's romantic feelings for Clare haven't totally died down. In his most recent Instagram post, he announced in what I can only assume is a bizarrely Canadian fashion that he was returning home after seemingly filming the "World Tells All" reunion special. Like Clare, he doesn't seem that open on social media, and the most personal insight into his life on Instagram is a family photo from this past Christmas.
To add fuel to rumors that Benoit and Clare could be the engaged Winter Games couple, the show's Twitter account posted a scene showing their first kiss right after teasing the impending engagement. Why would they randomly share this romantic footage following the couple's dramatic and emotional goodbye in Episode 2? In a stranger coincidence, the following tweet contained a clip of Benoit choosing to leave the house after Clare couldn't commit to their relationship.
If you ask me, fans would have to see some pretty convincing footage of a reunion between Clare and Benoit if they're now together despite that very conclusive-seeming goodbye. Then again, both are well into their thirties and seem to know themselves well, so they don't owe viewers any proof of their commitment if they had an off-camera reconciliation.
We'll have to wait and see if there's any Benoit sightings before the "World Tells All" special on Thursday, Feb. 22. The Bachelor Winter Games returns on Tuesday, Feb. 20 at 8 p.m. ET on ABC.