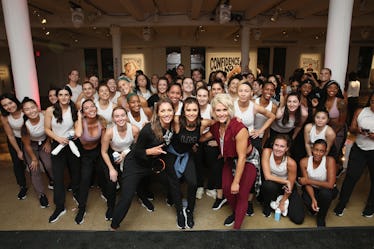 My First Dance Class In 10 Years Was With Nina Dobrev & I'm Back Into The Groove
Reebok
In high school, I danced every day from 7 a.m. through the end of first period, which meant I was logging in around 15 hours of dance per week. In Texas, where I grew up, dance is taken very seriously. My teammates and I were regularly humiliated and called out (by our coach) in front of other people if we made a wrong move, and when we were dressed in our uniforms, we had to walk with our hands behind our backs and say "yes ma'am" and "no sir" to anyone who spoke to us. If you were to ask me then if dance classes were easy and fun, I likely would have said no. Though for a period of time I really loved it, it was no doubt grueling, and I still have nightmares about it today. After high school, I stayed away from dance for years. But when I was invited to work out with Nina Dobrev and Reebok x Les Mills, I wondered if enough time had passed that I could learn to have fun with the sport I had long abandoned.
Dobrev's new program, Body Jam, is billed as a carefree and fun experience to sweat it out on the dance floor while raising money for women's charities. Though dance is supposed to be fun, it can often seem like a high-pressure situation: there's a routine to remember, the possibility of looking like Bambi on ice during a move, and there's usually some sort of group audience you're working out with.
As a long-time dancer who was definitely out of tune, I asked actress and long-time Reebok partner, Nina Dobrev, if she had any advice for me. "You lose 100 percent of the opportunities you don't go on," she tells Elite Daily. "If you don't take a chance, you'll never know if it's something you like or not, so why not try?"
Even if I wasn't quite convinced yet, I had even more motivation to hit the dance floor and squash my fears since I learned that Reebok's Donate In Sweat campaign pledged to donate $100 for each dancer who participated in the workout to the Women's Strength Coalition and the Movemeant Foundation.
The Body Jam routine starts out easy, with light hip movements that match the rhythm of the song. According to Dobrev, "anyone that has any level of dancing ability — beginner, intermediate, advanced — can jump in and still have fun doing this. We break every single move down and it's not fast; you're not walking into a pro dance class and feeling intimidated."
As I began to get comfortable on the dance floor, the first thing I noticed was how my stress disappeared. I realized that I didn't really have time to think about being stressed; I was so focused on trying to learn the movements. The timing was particularly helpful for me since, like many women, I was feeling the sting of last week's news cycle involving the Brett Kavanaugh hearings.
My notion that dancing could be good for your mental health was backed up by Les Mills' head of research, Bryce Hastings, who said on the Body Jam website, "For most of us dancing is both physically and mentally challenging. It combines the processing, coordination and execution of unique movements and requires a lot of genuine concentration."
Of course, I felt a little awkward at first. It was also super hard to know if I was doing the movements right at all, since there was no mirror in our practice space. I guess the dancer in me was taught to scrutinize my every move through my own reflection. Once I got over that, though, I started to pay attention to the music, and that's when I really got lost in what I was doing. I tried to picture myself at a party or club where I have no dance routine, and instead, listen to the beats in the song to dance naturally. Once I focused on that, I was able to let go and enjoy the workout. Soon enough, I was dripping in sweat as promised, but I didn't even mind it.
Once the 40-minute class was over, I realized that dancing was kind of like riding a bike; you don't forget how to do it as long as you're confident about it and aren't afraid to give it a try. Plus, by the end of the night, we had raised $15,000 for women's charities, just for showing up and sweating, so no matter what, I knew my efforts were not wasted.
Body Jam classes are available throughout the U.S. in person, but if you can't make it to a studio, you can still support the Donate in Sweat movement online, snag a shirt Dobrev designed herself (with 100 percent of the proceeds benefiting the same charities listed above), and take Dobrev's 40-minute Body Jam dance class for free at home. Be sure to use the #BeMoreHuman hashtag on the workout pics of you crushing the routine, and Reebok will donate $5 for every post.
Go forth and sweat for a great cause, because Dobrev and Reebok have made it easier than ever to get involved with the Donate In Sweat movement.