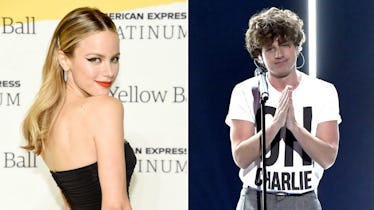 Fans Think Charlie Puth & Halston Sage Are Dating Because They Got Flirty AF At NYFW
Dimitrios Kambouris/Getty Images Entertainment/Getty Images; Kevin Winter/Getty Images Entertainment/Getty Images
I'm not gonna lie to you guys — I'm still not over watching Halston Sage getting bound and gagged with duct tape by Bella Thorne in the Netflix thriller You Get Me. I mean, I know the movie was kinda lame. But Bella's character Holly was still scary AF, and it's been kind of hard for me to shake her creepy obsession with Halston's character Ali's boyfriend. Which is why when rumors first started surfacing that Halston is now dating a certain Grammy-nominated singer-songwriter in real life, I was SO here for it. I really need someone to confirm this for me: Are Charlie Puth & Halston Sage Dating? Because it would weirdly make me feel better about everything Ali went through in that movie — especially because Charlie was once linked with Bella (!!!).
The rumors first started gaining momentum after Halston and Charlie were spotted canoodling at the Yellow Ball during New York Fashion Week. And no, I will never stop using the word "canoodling," so just deal with it, OK? Anyhoo, the "We Don't Talk Anymore" singer posted a super cute pic of Halston sitting on his lap over on his Instagram after the event, which was hosted by Pharrell Williams at the Brooklyn Museum.
They make a pretty adorbs pair, no?
There are also a couple of interesting videos of these two making the rounds. Like this really bizarre one that involves David Blaine spitting a frog into a wine glass while Puth, Sage, and Pharrell completely lose their shiz.
I have no idea how this whole little episode came to be, but Halston freaking out over the frog-in-a-glass bit and then burying her head in Charlie's shoulder as she's all, "I feel bad for the frog!" is definitely one the cutest things I have seen in a while, and I have legit watched this clip at least 50 times.
Man, I just love Pharell, don't you? And the way Charlie just casually flings a protective arm around Halston is total freaking goals. In fact, the only thing that would make this clip better would be if Bella Thorne showed up to attempt the same party trick herself, and then somehow messed the whole thing up.
Meanwhile, it was totally just five(ish) minutes ago that Charlie and Bella were a thing, wasn't it?
You know, back before news broke that the former Disney star and current Netflix queen was involved in a sort of love triangle with both Charlie and "Teen Wolf" star Tyler Posey? The whole thing actually kind of sounds like the plot of You Get Me — you know, minus all the Holly-is-actually-a-deranged-killer stuff.
Halston, meanwhile, has been linked to both her Orville co-star Seth MacFarlane, as well as to Zac Efron, after co-starring with him on The Neighbors back in 2014. But it looks like things with the actress and Charlie may actually be getting serious, since according to fans, he took her to New Jersey to meet his fam.
Here's a screenshot from a video of Charlie driving on the NJ Turnpike, that he shared on his Instagram story:
Twenty bucks says he's in a Kia.