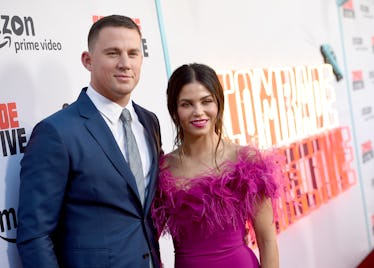 This Channing Tatum & Jenna Dewan Relationship Update Will Devastate You To Your Core
Kevin Winter/Getty Images Entertainment/Getty Images
If you've been having a great day so far, I'm so sorry but I'm absolutely going to spoil it. But don't blame me! It's all Channing Tatum and Jenna Dewan's fault. Now, I'm sure you're wondering right now: Why? Are Channing Tatum and Jenna Dewan dating other people? Apparently, the answer will absolutely gut you, because it seems that they are, in fact, officially seeing other people. Let that one sink right into the depths of your soul for a minute? Weeping yet? No? OK, well give me a few more minutes, because that's going to change real quick.
Just five months after Channing Tatum and Jenna Dewan announced their split, sources have told People that both of them have been scoping out the dating scene (BRB, weeping), but neither has gotten "serious" with anyone new just yet (still weeping, TBH). Elite Daily reached out to Tatum and Dewan's teams for comment on the report, but did not hear back by the time of publication.
A source close to Dewan has told the site that "[Jenna] has been on a few dates but doesn't talk about a boyfriend," but her busy schedule has kept her from taking things to the next level with anyone. "Jenna is busy working and going back and forth between L.A. and Atlanta ... She's in a really great place." A greater place would be in Channing Tatum's arms, if you ask me, but that's not my place.
And according to a film source, Channing Tatum has also been dating casually and "having fun," but that nothing "serious" has come of it. Yet.
If I'm being truly honest with you, I'm still somewhat surprised that, after 9 years of marriage, the couple decided to call it quits, taking to social media on April 2 to issue a statement about the end of their marriage.
We have lovingly chosen to separate as a couple. We fell deeply in love so many years ago and have had a magical journey together. Absolutely nothing has changed about how much we love one another, but love is a beautiful adventure that is taking us on different paths for now. There are no secrets nor salacious events at the root of our decision — just two best-friends realizing it's time to take some space and help each other live the most joyous, fulfilled lives as possible. We are still a family and will always be loving dedicated parents to Everly. We won't be commenting beyond this, and we thank you all in advance for respecting our family's privacy.
It's like I'm being sucker-punched in the gut all over again.
Since the divorce, Dewan opened up about the marriage, and why it felt right to split, noting that their new arrangement will be a "new normal" for herself, Tatum, and their daughter, Everly.
"It's been a journey, and it's been a transformation of myself — my needs and wants as a woman," she said in her interview with Women's Health. "
"I think everyone wants to hold on to what's in front of them, but when you open your mind saying, 'I want what's best for myself and my daughter,' you have to be OK with however that looks. I feel like I've been on a wave of growth."
Dewan also said that divorcing in the public eye is "challenging," but that, "It's OK for a relationship to change into a new form that is actually better for both people involved, and I think maybe that's what shocked everyone so much—that it can be a positive thing," adding, "That was ultimately what happened with us."
I'm really happy that both Jenna and Channing are moving on and are in a good place with each other, even if it means they're no longer together. But that doesn't mean I won't stop re-watching Step Up while sobbing and throwing popcorn angrily at my screen anytime soon.
It's just not gonna happen.