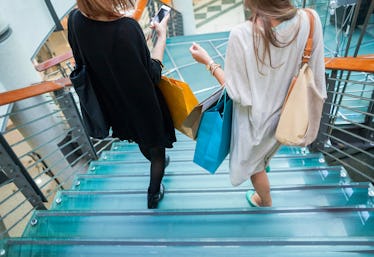 Should You Go Black Friday Shopping? If You Do, These Are The Deals That Are Worth Your Time
Thanksgiving is all about togetherness, a buffet spread of seasonal delicacies, and catching the last few plays of football in between courses. For retail workers and bargain hunters, on the other hand, Turkey Day is Black Friday eve, but on the real, are Black Friday sales worth it? Should you actually endure the near-death experience that is muddling through erratic crowds, or waking up super early to stand in line for hours on end? Ultimately, it's really up to you to decide.
Personally, I never understood the appeal of Black Friday mayhem until my husband and I started dating. He has somehow convinced me that waking up around 6 a.m. to scour the mall is a good time, so every year, we roll out of bed, get in the car, and enter the mall with little to no expectations. I can honestly say that, in my experience over the past four years, I have yet to experience a crazed customer, an out-the-door line, or, most importantly, a deal I couldn't pass up.
Now, don't get me wrong. I have a blast on Black Friday and look forward to it every year. I love the adrenaline of waking up at the crack of dawn to speed through the mall on the hunt for a great purchase, how everyone's sleepy eyes skim through clothing racks and toy store shelves. I especially enjoy the all-you-can-eat pancake breakfast my guy and I indulge in once we're over price checks and fitting rooms. The tradition and thrill of Black Friday is worth it in my own opinion, but if you're debating whether or not the sales themselves are worth your time, you honestly might be better off staying home.
To put it simply, Black Friday isn't at all what it used to be.
Way back when, Black Friday started and ended on Black Friday. These days, Black Friday might as well be its own season, because some retailers start handing out deals days, even weeks prior to Thanksgiving, and draw out the so-called "steals" long past Cyber Monday.
Kyle James, founder of Rather-Be-Shopping.com, told Business Insider that waking up early to secure your spot on line on Black Friday isn't as effective as it used to be:
The early bird does indeed get the worm.
By "early bird," I'm not talking about being the first one through the doors on Thanksgiving or Black Friday. I'm talking about shopping on the Monday, Tuesday, and Wednesday before Black Friday and scoring a deal.
So if Black Friday is actually Black Monday, or Tuesday, or literally any day of the week before Thanksgiving, what's the point?
I hate to break it to you, but most Black Friday deals aren't much of a discount, anyway.
The downfall of Black Friday lies in the high expectations shoppers have when it comes to deals. For instance, if I'm going to risk my life wrestling with a woman for the last pair of Zara-label skinnies, that denim better be marked down at least 50 percent. College students looking to upgrade their laptop to a MacBook Pro are definitely banking on saving a decent chunk of cash, and anyone looking to splurge on a widescreen TV shouldn't be spending on a model they'll dispose of after the Super Bowl.
That's not to say every markdown on Black Friday is a joke. The key to bargain-shopping after Turkey Day is to compare and contrast deals. According to DealNews, items like fitness equipment, power tools, jewelry, high-quality tech, and winter clothes are definitely not worth waking up for on Friday morning.
For example, maybe you've been holding off on splurging for that shiny new smartphone in hopes that Black Friday might knock the price down a couple hundred dollars. I hate to be the bearer of bad news, but you're better off waiting until mid-December. BestBlackFriday.com reports that Apple iPhone discounts are "pretty scarce," and the most tempting offer only gets you a gift card when you sign on to a new plan. Kind of lame, right?
Oh, and if you're in it for the enticing door-buster sales, you're better off catching some Zs instead. CNet.com says most big-ticket deals, especially television sets and laptops, are geared toward low-end devices that are generally cheap in price and low-quality. All things considered, you might as well wait until your splurge item goes on sale after Christmas.
Despite slim pickings, beauty and gaming deals are a promising steal.
As far as clothes, jewelry, and TVs go, Black Friday deals aren't the end-all-be-all of discounts. However, video games, consoles, and especially cosmetics, are definitely worth keeping an eye on.
Gamer gals and dudes will definitely want to be on the lookout for price drops on and around Black Friday. TechRadar reports that for those patiently awaiting its re-stock, the Nintendo Switch is slowly but surely making its way back on brick-and-mortar shelves just in time for Black Friday (though there's no guarantee we'll see major discounts on that front just yet). The site also expects to see deals on the Xbox One and PS4 in the upcoming week.
For beauty buffs, sales in lieu of Black Friday are epic because the name brand cosmetics are rarely on sale throughout the year. So even though the concept behind Black Friday has gotten a little out of hand, we'll forgive the out-of-control spiral in the name of marked-down foundations, highlighters, and designer eyeliner.