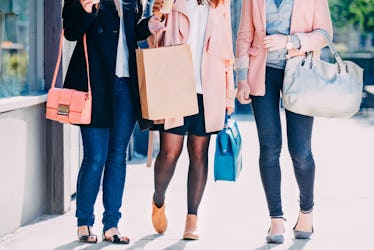 These Are The 10 Things You Definitely Shouldn't Buy On Black Friday This Year
Black Friday is complete and utter mayhem. It's a total sensory experience, filled with shouting, pushing, grabbing, and rooms packed to the brim with sweaty people. Some people love to do Black Friday shopping for the discounts; other people love it for the drama. But regardless of how you feel about the most insane shopping day of the year, you should stay away from the worst things to buy on Black Friday.
Just because something's discounted does not mean that it's the cheapest it will ever be. In fact, tons of products (especially seasonal ones) tend to have their own designated phase of the year in which you can be confident you're getting them for a good, low price. For example, products specifically used in winter months aren't going to be discounted on Black Friday, a day that basically signifies the beginning of winter.
There's nothing wrong with shopping for deals, or with joining in on the mayhem of Black Friday. But if you're going to fight through all that tryptophan and make it to your local mall by 4 a.m. the day after Thanksgiving, you might as well make it worth it, and direct your attention away from things that, plain and simple, aren't good deals. Here are 10 of the worst things you could possibly buy on Black Friday.