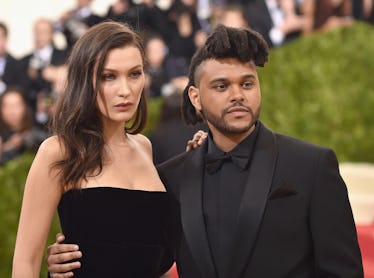 Bella Hadid Reportedly Still Loves The Weeknd & Would Give Him "Another Try"
Dimitrios Kambouris/Getty Images Entertainment/Getty Images
Apparently, we've all gone back in time and the past couple of years don't matter. Selena Gomez is off taking walks with Justin Bieber, and The Weeknd is reportedly hanging out with his ex, Bella Hadid. I'm sorry, but didn't we already live through this? Maybe I'm jumping to conclusions instead of asking the right question — are Bella Hadid and The Weeknd still friends? Seemingly, yes. Reportedly, the two are spending time together again, and everyone is dying to know the same thing... WHAT DOES THIS MEAN?
In case you've been totally blocking out the past year (I don't blame you), Hadid and The Weeknd (real name Abel Tesfaye) officially split in November of 2016 after one year together.
Important thing to remember: Hadid and The Weeknd were literally THE COUPLE back then. Like, they were the ultimate goals, so their break up came as a shock to a lot of people.
As with most celebrity couples, scheduling conflicts were reportedly the reason behind the split. An unnamed source told People after the break up in Nov. 2016,
Their schedules have been too hard to coordinate and he is focusing on finishing and promoting his album. They still have a great deal of love for one another and will remain friends.
OK, so they seemingly had a very civil split, but the two may be stirring the pot again. Rumors first started swirling on Nov. 14 after the paparazzi snapped photos of The Weeknd literally sprinting out of Hadid's apartment in New York City.
These pictures honestly crack me up. He looks like he's on a covert mission or something. So, how long have these undercover hangout sessions been happening? It's hard to say, but a source told E! News that Hadid and The Weeknd have been in contact since his split with Selena Gomez at the end of October. They are reportedly just friends... for now. The source dished,
Bella and Abel have been in contact since Abel and Selena split, but they are not back together. Abel reached out to Bella asking to hang out and catch up, and she decided to see him and see where things go. She knows that if they don't date again, they can at least be good friends.
Bella, you probably have enough friends. The source did add that the two have an "amazing connection" and "enjoy each other's company and have a lot of fun together."
I honestly can't decide how I feel about the possible rekindling of The Weeknd and Hadid. Part of me completely loved them as a couple, but the f*ckboy intolerant part of me thinks Hadid should proceed with caution.
About a month after their split, Hadid divulged to Teen Vogue that The Weeknd was her first breakup,
When I love somebody, I love them with my whole heart. It was my first break up — or second, next to the horse — and so public... As an outsider, you might think I handled it so well, but it's always in your heart, and you always feel it very heavily.
This just makes me sad for Hadid. If you've been there before, you know it's so tough after a split. Supermodels are truly just like us. This statement was surprising because it came after Hadid's epic strut past her ex on the Victoria's Secret runway. Literally, heartbroken girls everywhere connected with Hadid in that moment.
As of now, the two are taking things slow. A second source told E! News,
He has expressed to her that he loves her still, and they will always have a real connection. He also apologized for hurting her in the past.
Homeboy is gonna, like, not get it... quite yet. The source continued,
She still loves him but has her guard up. She never really got over him. She is not looking to be exclusive with him now, just to be his friend. His schedule won't allow him to stay focused on her—she knows this from past experience. She also knows he is talking to a few girls still. She reads what is put out in the news and that affects her.
As of now, the only thing that seems to be happening is a friendship. Time will tell if these two decide to heat up their romance again. Between Justin, Selena, Bella, and The Weeknd — it's honestly hard to keep up.
Check out the entire Gen Why series and other videos on Facebook and the Bustle app across Apple TV, Roku, and Amazon Fire TV.