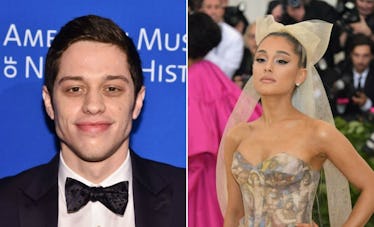 Here's What We Know About Ariana Grande & Pete Davidson's Relationship After Their Breakup
MICHAEL LOCCISANO/GETTY IMAGES ENTERTAINMENT/GETTY IMAGES | NEILSON BARNARD/GETTY IMAGES ENTERTAINMENT/GETTY IMAGES
If you've been following the breakdown of Ariana Grande and Pete Davidson's relationship closely, then you know that the two stars haven't exactly been forthcoming about why the relationship didn't work out. While sources have claimed that Grande is just not in the right head space for a serious relationship, fans of the couple still have questions. And now that they've broken up, the fans are wondering about one thing in particular: are Ariana Grande and Pete Davidson still friends?
While Grande and Davidson seemed to be heading towards a feud in the weeks following the breakup, it seems like the two stars have truly smoothed things over. During the Nov. 3 episode of Saturday Night Live, Davidson actually took the opportunity to address the breakup on camera. And what he had to say proves that he and Grande are way too loving and mature to give into the media circus surrounding them.
So, what all did Davidson have to say about his relationship with Grande? Nothing but good things!
"I know some of you are curious about the breakup, but the truth is it's nobody's business and sometimes things just don't work out," Davidson said. "And that's okay. She's a wonderful, strong person and I genuinely wish her all the happiness in the world."
In a similar move, Grande took to Twitter earlier that same day to say that she was full of all kinds of positive attitudes and emotions.
In her tweet, the singer wrote, "no drags.... no shade..... jus love, gratitude, acceptance, honesty, forgiveness ... and growth."
So, those two were definitely on the same page that day, which is great because it really did seem like they were headed for an ugly feud for a while there. For example, on Nov. 1, Grande seemingly called Davidson out on Twitter for a skit he did for Saturday Night Live. In the skit, Davidson asked musical guest Maggie Rogers whether she'd like to get married. When she turned him down, Davidson looked at the camera and said, "0 for 3."
Apparently, Grande didn't like the fact that Davidson was making light of their relationship, and she made that known on Twitter. In a now-deleted tweet, Grande wrote, "For somebody who claims to hate relevancy u sure love clinging to it huh."
Then, in another tweet, Grande alluded to her next single by writing, "thank u, next."
All of that gave the impression that Grande wasn't happy with Davidson's jokes and also that she was ready to move on. And when her single "Thank U, Next" was actually released a few days later, Grande further confirmed that she wasn't looking back on old times anymore.
Here's a look at the lyrics for "Thank U, Next":
Thought I'd end up with Sean / But he wasn't a match / Wrote some songs about Ricky / Now I listen and laugh / Even almost got married / And for Pete, I'm so thankful / Wish I could say, "Thank you" to Malcolm / 'Cause he was an angel
Needless to say, Grande and Davidson are moving on with their lives and they're not bitter at all about how the relationship ended. Seems pretty friendly to me!