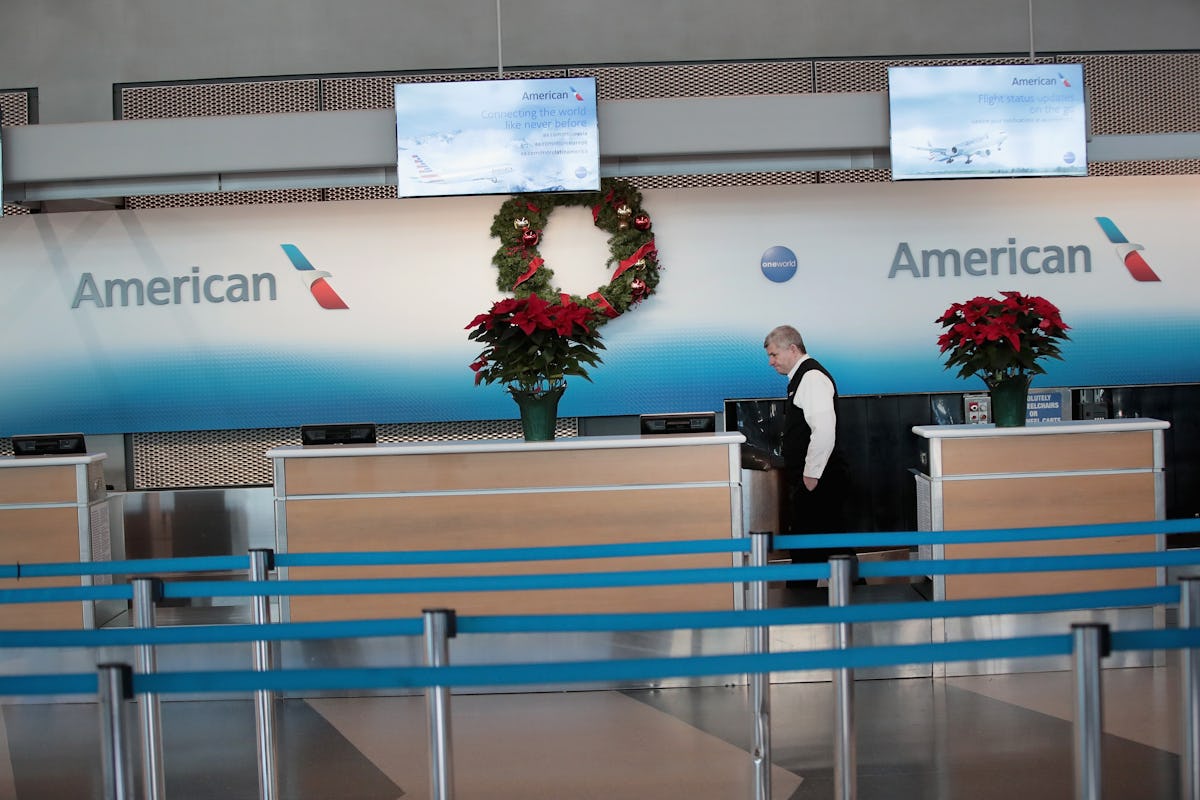 The Truth About Airports On Christmas Will Make Flying So Much Better
Scott Olson/Getty Images News/Getty Images
Making the decision to travel on Christmas Day is never easy. Dec. 25 is arguably the most important day of the holiday season for those who celebrate, so opting to spend some of it away from family and friends is a big deal. Hopefully by now you've already booked your holiday travel, but if you haven't, or you have and it includes being in transit on Dec. 25, we've got some exciting answers to the question: Are airports busy on Christmas Day?
Because Christmas Day is so important to so many people, most do everything they can to avoid traveling on the holiday — especially if they're traveling by plane, which can eat up an entire day. For those who don't have a choice, though, this can really pay off. According to Condé Nast Traveler, airports are almost always less crowded on Christmas Day, which is perhaps the biggest thing that makes this a convenient travel day. Fewer people can mean shorter lines, smoother boarding processes, and more space when you're actually on the plane. Flights are also typically cheaper, so on the off chance that something does go wrong, at least you didn't spend a ridiculous amount of money on your ticket.
Saving money and avoiding crowds are pretty major selling points for traveling on Christmas Day. Given how hectic air travel can be, it definitely seems worth it to at least consider traveling on the holiday if you can swing it. However, if you do decide to travel on Christmas Day, there are some precautions to take to go along with those benefits. Life is all about balance, right?
Condé Nast Traveler advises Christmas Day airline passengers to be wary of limited or closed restaurants, stores, and activities inside airports. Even if flights are departing and arriving, most airport amenities are run by independent vendors, who are not subject to airport hours of operation. To prepare, do a quick search online or call your airport to see what will be open, especially if you have a long layover or are traveling around a meal time. You might also consider packing your own food, in case your preferred restaurants are closed. I'm still scarred from trying to get Chick-fil-A on a Sunday.
Same goes for entertainment. Shorter lines and less hassle means more down time, so you might breeze through the one magazine you brought faster than you think. If the newsstands are closed, you'll be out of luck for your flight, so make sure you have some extra reading material on hand. You'll also have more time to use your phone, laptop, or tablet when you're not running around like a headless chicken trying to get through security, which means burning through the battery on these devices quicker. Keep your chargers easily accessible.
Although the airport won't be crowded, there are no guarantees when it comes to ground transportation on Christmas Day. Even though not as many people will be leaving for or returning from extended trips, there's still local traffic to consider, with people visiting nearby friends and relatives. Consider allowing a little bit of extra transportation time to the airport. Getting there early is better than missing a super cheap and convenient flight.
If your holiday travel is already booked and you're starting to think about where you might want to get away to in 2018, some airlines are offering great deals on flights right now. WOW Air, an airline that specializes in "cheap flights" departing from the United States to Europe, Iceland, and Asia, is currently running a 50 percent off flash sale that will last until Saturday, Dec. 23 at 6:59 p.m. ET. Simply visit the WOW Air website, select your destination, and plan your trip for any time between Dec. 27, 2017, and May 15, 2018. Enter the code "WOWXMAS" in the "Promo code" box, and from there, the 50 percent savings will be reflected in the flight prices. Did someone say "NYE in Tokyo"? Just kidding, it was me. I said it.
Check out the entire Gen Why series and other videos on Facebook and the Bustle app across Apple TV, Roku, and Amazon Fire TV.